24-year-old right-back Jules Kounde, who plays right-back for Barcelona, also had a spotlight in their round of 16 match against Poland, but it was for rather unusual reasons. The star defender who started the game was in his usual mode until the 42nd minute when he took a throw-in. The assistant referee noticed a gold chain on Kounde's neck and asked him to remove it, a request upon which the star defender obliged.
In this unusual incident, the fact that Jules played for more than 40 minutes with the jewelry without being noticed demonstrated how easy it would be to get away with it despite being prohibited. If you want to know about Giroud and Mbappe Break Records, click here.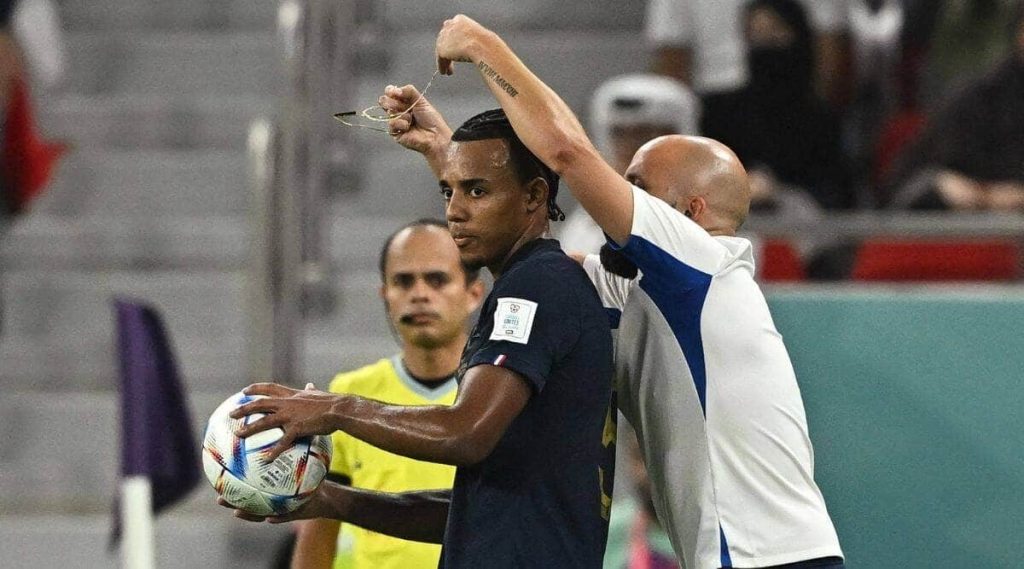 Credits: The Indian Express
IFAB rules
For safety reasons, the International Football Association Board prohibits players from wearing jewelry in matches. The provision is rule four of the IFAB regulations: "Players must not wear dangerous equipment or objects. All types of jewelry accessories are prohibited."
The same provision, for examples of illegal jewelry, says, " All jewelry items (necklaces, rings, bracelets, earrings, leather bands, rubber bands, etc.) are forbidden and must be removed. Using tape to cover jewelry is not permitted."
According to The IFAB regulations, the players are supposed to be inspected for such jewelry before the match and substitutes before they come in. Jules Kounde, however, managed to play almost the whole first half in his gold chain. He would have been cautioned with a yellow card if he had refused to remove the chain after receiving the referee's warning.
The Frenchman is lucky enough not to be facing any punishment, but if he is caught wearing the accessory in any of the remaining matches in this World Cup, he could get a yellow card as punishment.
Didier Deschamps does not approve
Didier Deschamps, who has been the team's coach since 2012 and a player from 1989 to 2000, was asked about Kounde's incident amid claims that the jewelry had a rainbow logo. He dismissed the politics in it and pointed out that Kounde is superstitious and wears the necklace even in training for the French side.
He further expressed his disapproval when he said Jules Kounde was wrong to play in his gold chain against Poland, regardless of whether he was trying to make a political statement. "Players don't have the right to wear necklaces,' said the French boss. 'He can't play with sunglasses, a watch, or a chain; it's not allowed. I thought he had taken it off. That's our fault, our mistake."
In what luck had very little contribution to, the defending champions went passed an unlucky Poland; they qualified for the quarter-finals as they seek to defend their championship.