So far, in the Qatar FIFA World Cup 2022, France has displayed utter dominance. The defending champions scored nine goals out of four games and conceded only three. In their last game of Group D, Les Bleus lost only 1-0 defeat to Tunisia.
France was beaten in a World Cup match for the first time since the 2014 quarterfinal 0-1 loss to Germany, ending a run of nine games without defeat. They have gone without a win in their final group match in the last four World Cup tournaments while failing to score in the last three. If you want to know about Jules Kounde's Golden Moment, click here.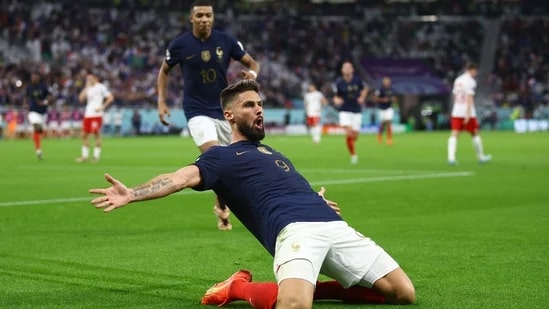 Credits: Hindustan Times
On to the quarters
France dominated their round-of-16 matchup with Poland on Sunday in a much-deserved win. First, Olivier Giroud opened the scoring with a record-breaking 52nd goal for Les Bleus; this took him beyond Thierry Henry as France's all-time leading scorer. Then, Kylian Mbappe displayed his brilliance to steer his team through with two goals, taking his tally to five at the tournament.
Robert Lewandowski got a consolation at the death for Poland from the penalty spot, but that was the end of the road for them. France has now progressed from all six matches they've played in the round of 16 at all World Cup tournaments, including in each of the last three editions in a row, that is, in 2014, 2018, and now 2022.
Under coach and former France player Didier Deschamps, the defending champions have only lost one of their seven games in the World Cup knockout stages with the finals included, with that defeat coming in 2014 to eventual winners Germany in a 0-1 quarterfinal loss. Since that defeat, they have won each of their last five games in the World Cup knockout stage.
In a bid to defend their title and become only the third men's team to reclaim their title as world champions, France advances to the quarterfinals, where a more formidable opponent awaits them
Matched Up Against England
Favourites England have also stormed through to the quarterfinals of the World Cup in Qatar with a flurry of goals that saw them convincingly end the tournament runs of Poland and Senegal. The two European giants are now set for a World Cup quarterfinal match that will see them battle for the semis on Saturday, December 10, at Qatar's Al Khor stadium.
This will only be the third time the two teams have squared off in the World Cup, with England having won both of their previous meetings. The first was 2-1 in 1966, followed by 3-1 in 1982.
The quarterfinals matchup will be a star-studded affair, with both teams having world-class players at their disposal. With France looking to defend a title and England wanting to win one after a long time, who will be cut short?