La Seleccion of Argentina suffered a massive setback on Tuesday after losing 2-1 to the Saudi Arabia National team. The Argentina nation hard started well; their talisman Lionel Messi scored from a spot-kick. In the first half, things looked so good for Argentina as they controlled the game and even scored several goals but were ruled out by the Video Assistant Referee. If you want to know about Argentina vs Saudi Arabia Match Highlights, click here.
Goals from Messi and Lautaro Martinez were ruled out in the first half. In the second half, Saudi Arabia national scored two goals from Al-Shehri and Al-Dawsari to complete a surprise comeback beating Argentina 2-1
Possible Changes For Argentina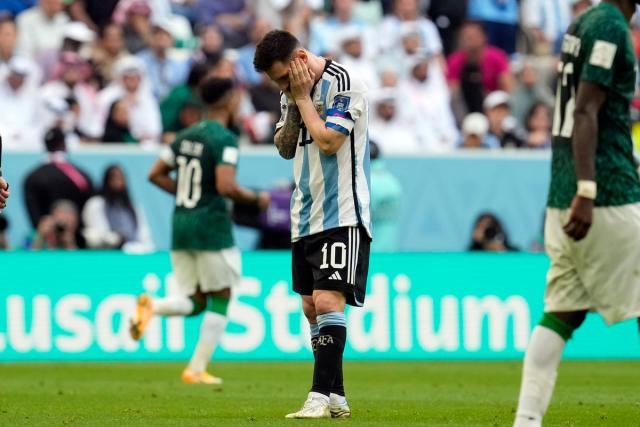 Lionel Scolani opted for a 4-3-3 formation with a midfield of Leandro Paredes, Papu Gomez, and Rodrigo de Paul. The midfield looked lost, considering de Paul and Paredes are more defensive-minded, while Papu Gomez is too old to carry the ball to the opposition box aggressively. Scolani should incorporate Messi or Roma attacker Paulo Dybala to support Lautaro Martinez and Dimaria in the attack. This will enhance creativity in the Argentine midfield. To achieve this, he needs to switch to a 4-2-3-1 formation playing with two midfield seaters and creating space for an offensive midfielder like Messi or Dybala to run in behind the strikers and also increase creativity. Scolani should also bring Lisandro Martinez to the back four as he is arguably the best Argentinian defender to replace Tottenham hotspurs Christian Romero, who looked quite sloppy. Lisandro Martinez is good with the ball and can help them control the game more.
What next for Messi and Argentina
Looking at the big names in the Argentina National team, fans around the world expected the Lionel Messi-led squad would school Saudi Arabia national team and even score more than three goals in the match. Still, as we all know, football is a game of probabilities, Saudi National team came on top. It is too soon to say that there is no hope for Argentina since even Spain lost their first match against Switzerland in 2010 and took the World Cup that year. Argentina has to win their next game against Mexico and Switzerland to comfortably qualify for the next round.
The Hope For A Sweet Ending To An Era
Messi is arguably the best player of all time; every Argentine and Messi fan hopes that Messi wins this World Cup to have a sweet ending to this already incredible career. All we can do is wait and see how everything unfolds.