Senegal had a turn of adverse events before and during the start of the World Cup. From losing their Talisman Sadio Mane to losing the first game against the Netherlands.
After the first group's Stage match, they were bottom of Group A behind Ecuador and Netherlands. Their hope of Senegal qualifying was diminished as Ecuador and Netherlands became the favorites to win the qualification spots. if you want to know about Can Germany Salvage Itself, click here
The Lions of Teranga worked hard in the first and the second game to ensure they qualified for the next level of the competition. The Senegalese have now qualified for the knockout stage for the second time.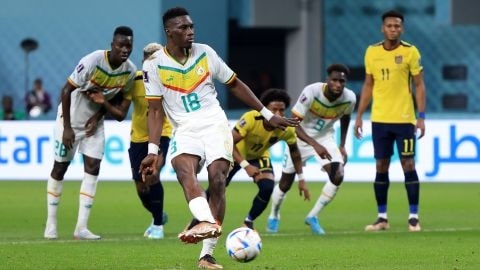 Credits: CNN
The best performance for the Senegal side was when they qualified for the quarter-finals in 2002. The current coach Cisse was the captain of the Senegal team that reached the quarter-finals in 2002.
After losing to the Netherland National team, the following is the journey that led to the qualification of Senegal:
Senegal Wins Against Qatar
After losing to Netherlands 2-0, Senegal's national team gave a promising result against Qatar, the host nation. On most occasions, it's not easy to motivate the spirit of players who have lost a match, but Senegal gave an impressive performance on their second, beating the Qatari side 3-1.
Dia, Diedhiou, and Dieng's goals were enough to provide them with the three points. The Qatari side scored a consolation via Mohammed Muntari. Muntari's goal was the first goal for Qatar in a World Cup competition.
After beating the Qatar side, Senegal increased its qualification chances and went 3rd in the table and only a point behind Ecuador, who was second in the group A table. This win meant they needed to win against Ecuador, a top competitor, to get a space in the Round of 16.
Senegal Completes Qualification Against Ecuador
Senegal had a lesser advantage in this match since they needed a win to ensure they qualified for the knockout stage. They faced Ecuador, a formidable opponent who only needed a point to be eligible for the Round of 16.
The match was highly contested between the two teams. Senegal was the first to throw a punch when Ismail Sarr scored a penalty in the 44th minute. Senegal went for the halftime break with a goal advantage.
Brighton's player Moise Caicedo equalized for Ecuador in the 67th minute, slowing down Senegal's dream of qualification. Senegal's Captain, Kolidou Koulibaly, restored their advantage in the 70th minute. The Senegalese defended well, won the match, and qualified for Round 16 of the 2022 World Cup.