Coming into the round of 16 at the Qatar World Cup as African champions, a short-handed Senegal side remained African favorites. Trying to reach the quarter-finals for the second time, after they did so in their World Cup debut in 2002, their path was blocked by England.
In a one-sided affair, a star-studded English squad beat the short-handed African side. Although Senegal had sporadic runs and shots at England, the English team was diligent enough to shut down most threats before they manifested. If you want to know about France Eliminates Poland To Set Stage Against England, click here.
Is this England's best form?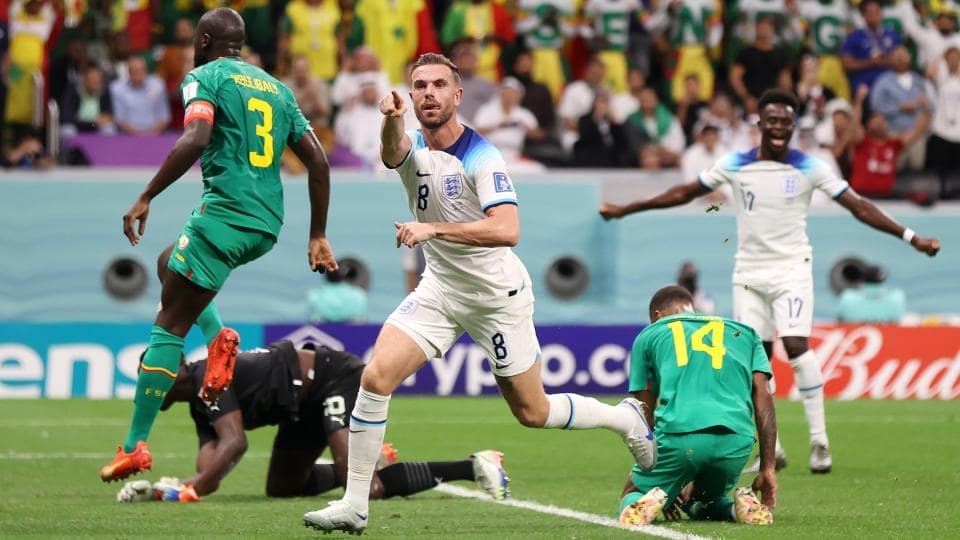 Credits: Sporting News
Coming out of Group B, England emerged from the group stage at the 2022 FIFA World Cup with the best record of all 32 countries. Together with the Netherlands and Morocco, they earned seven points from their three matches, but England had a better goal difference. Despite looking vulnerable in the barren draw with the USA, England were the joint top scorers in the group stage with nine goals.
In their round-of-16 match against Senegal, a matchup that was the first ever between the two sides, England cemented their spot in the quarter-finals of the World Cup. After scoring their first two just before halftime, The European side began the second half with just the same energy, and they scored their third and final goal through Saka in the 57th minute.
Their only task became to deter Senegal, and English executed well. They came close to adding to their lead on several occasions and kept their opponents at bay. As a result, they secured a 3-0 win and set a date with France in the last eight.
After their emphatic win against Senegal, England scored 12 goals in four matches at the Qatar World Cup. This ties the most they have scored at a single major tournament before and is leveled with their 12 goals at the 2018 World Cup in Russia.
The three Lions have now reached the quarter-final of the World Cup for the 10th time. They have done so twice, each under Walter Winterbottom in 1954 and 1962, Alf Ramsey in 1966 and 1970, Bobby Robson in 1986 and 1990, Sven-Göran Eriksson in 2002 and 2006, and now with Gareth Southgate 2018 and 2022.
Can England win it all?
Going into their quarter-finals matchup with France, England is still unbeaten and has conceded only two goals. After losing to Croatia in the semi-finals in 2018, the Three Lions are well on another campaign for the world championship.
Like in previous World Cups, the Englishmen present a well-balanced squad of energetic young stars amid experienced veterans. Led by former England player Gareth Southgate, can England end their World Cup drought?