No country has a richer World Cup history compared to that Brazil. The Selecao is the most successful national team in the history of the FIFA World Cup. Apart from having won five titles, they have also earned second-place, third-place, and fourth-place finishes twice each.
 Being the only team to have played in all FIFA World Cup editions without any absence or need for playoffs, Brazil has had 74 victories out of 110 matches in all 22 World Cup tournaments. Brazil and Italy are the only countries to have won the trophy back to back after brazil won it in 1958 and 1962. If you want to know about Achraf Hakimi Leads Morocco Into The Quarter-finals, click here.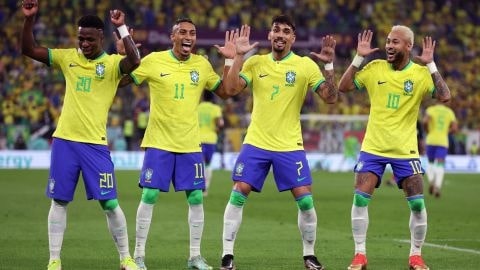 Credits: CNN
Former Glory
Despite their decorated history, the past decade has been somewhat of a trying for Brazil. Entirely in the hands of European opposition, Brazil exited the last four world cups early after defeats by France in 2006, the Netherlands in 2010, Germany in 2014, and 2018.
In what was their first home-soil World Cup tournament in 64 years since the 1950 World Cup, Brazil was the host of The 2014 World Cup. As hosts, having qualified automatically, they finished top of their group, winning two matches against Croatia and Cameroon and drawing against Mexico.
They eventually reached the semi-finals, beating Chile and Colombia. The Brazilians were short-handed going into the semis against Germany; they had lost Neymar to injury against Colombia, and their captain Thiago Silva, was suspended on the accumulation of yellow cards.
Despite the absence of these players, a close match was expected, given Brazil's history on the stage. This match, however, ended in a historic 7-1 loss for Brazil in a massive show of dominance; Germany led 5–0 within 29 minutes, with four goals scored inside six minutes; Brazil scored a consolation goal in the last minute, ending the match 7–1.
This marked Brazil's most significant loss almost a century after the 6-0 loss to Uruguay in 1920.
They matched up against Croatia
Apart from the 2018 finals, where they lost to France, Croatia won all their elimination stage games at the FIFA World Cup. In these victories, three out of four wins by Croatia have been through penalties.
After surprisingly reaching the finals in 2018, Croatia has been a formidable opponent in Qatar 2022. Going into the quarter-finals against Brazil, the European side is still unbeaten, having won and drawn on two occasions.
Despite lacking enough superstar players, the Luka Modric-led side is still a well-balanced squad with capable players.
Brazil knows better than to sleep in Croatia.