In a bid to surpass their World Cup record, North African side Morocco has displayed exceptional performances. Their squad is made of decent players who have competed at high levels before and are still unbeaten, moving into the quarter-finals of the Qatar World Cup. So far in their run, Achraf Hakimi has been arguably the side's best player. If you want to know about Spain Misses All Penalties Against Morocco, click here.
The 24-year-old right-back, who plays in the Ligue 1 for Paris Saint-Germain, is considered one of the best in the world. He is known for his speed, runs, his ability to score goals.
In their round of 16 match against Spain, Hakimi converted Morocco's last chance in the penalty shootouts.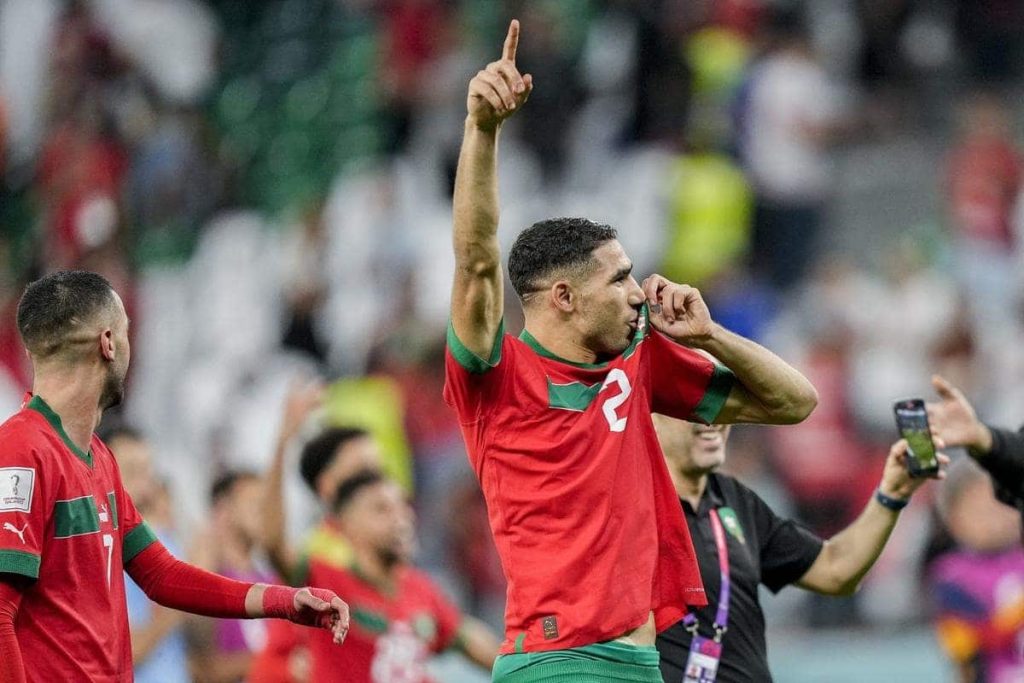 Credits: Sportstar
Born and Raised in Spain
Achraf Hakimi was born on 4 November 1998 in Madrid, Spain. He came through Real Madrid's youth academy, where he played for Real Madrid Castilla in 2016 and was promoted to the first team in 2017. For Real Madrid, he had just nine appearances in which he scored 2 goals.
He had been sent on a two-year loan deal to Bundesliga side Borussia Dortmund, where he won the DFL Supercup in 2019. After a successful loan with Dortmund, Achraf signed with Serie A side Inter Milan for a reported fee of 40 million Euros. He proved worth every penny as his performances helped the club win the league title, which ended the club's eleven-year league title drought.
His performances sparked the interest of several European clubs, with Paris Saint-Germain signing him in 2021 for a fee of 60 million Euros.
The PSG player is already one of the best full-backs in world football. He now continues to build his reputation at the World Cup in Qatar. Against Spain, Hakimi was active for Morocco, making stops and instigating runs all through to the end of the extra time.
However, he set his mark in the shootouts, scoring the last chance for the Moroccan side. Born and raised in Spain, Achraf Hakimi sealed the Spaniards' fate.
An Elimination Panenka
The Panenka technique was invented by Czech player Antonín Panenka, who introduced it to the world in the finals of UEFA Euro 1976 against West Germany.
To execute the Panenka, the player taking the shot gives a light touch underneath the ball instead of kicking the ball to the left or right of the goalkeeper. This causes the ball to rise and fall within the center of the goal, deceiving the goalkeeper, who is counted on by the taker to have guessed a side and committed to a dive away from the center.
Hakimi was exceptional and displayed mental toughness when he remained calm enough to attempt and convert a Panenka in a knockout game. He indeed sent Spain home in style.