After a goalless draw all through the extra time, the round of 16 match between Spain and Morocco had to be settled by penalties. The two sides also drew(2-2) the last time they faced off in the World Cup in Russia in 2018; they had, however, settled for one point each as it was a group-stage match. In what was Morocco's first-ever victory against the Spaniards, they scored three out of four from 12 yards knocking Spain out of the World Cup. If you want to know about Croatia Vs Brazil Quarter Final, click here.
Two sides of history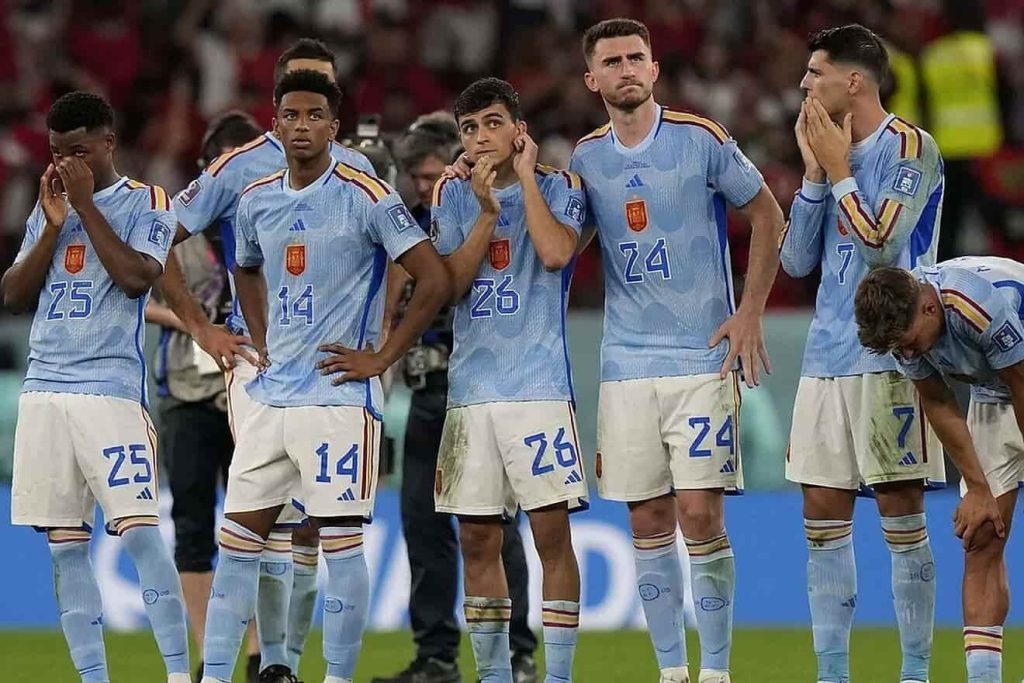 Credits: Marca
When it comes to the history of penalty shootouts at the World Cup, both Morocco and Spain have their names already engraved in it. Morocco featured in the first penalty shootout in the World Cup on January 9, 1977, in the first round of African qualifiers, when they lost to Tunisia. The first shootout in a World Cup tournament occurred at the 1982 World Cup, in which Spain was the host, West Germany defeated France in the semi-finals.
Going into their round of 16 match against Morocco, Spain, and England, Italy suffered the most penalty shootout losses at the World Cup. Having lost on Tuesday, Spain now stands alone as the first nation in World Cup history to lose four penalty shootouts, with a record of 1-4. The European side also became the second not to score in one after Switzerland against Ukraine in 2006.
Just like in 1986, 2002, and 2018, Spain was knocked out of the Qatar World Cup 2022 through penalties.
A Thousand Penalties
Spain's coach Luis Enrique revealed that he had required all the players in his squad to take at least 1000 penalties before Qatar.
"I imagine that they have done their homework. Over a year ago, in one of the Spain camps, I told them they had to get here with at least 1,000 penalties taken. If you wait until getting here to practice penalties, it won't be enough," Luis Enrique told the press.
"It's a moment of maximum tension, a time to show your nerve and that you can shoot the penalty as you have decided if you have trained it a thousand times. It says a lot about each player. It's trainable and manageable how you manage the tension.
It's increasingly less luck because the goalkeepers have more influence. We have a very good goalkeeper; any of the three can do very well in this situation. However, every time we finish training, I see a lot of players taking penalties," he concluded.
The Spanish side came into their round of 16 matches against Morocco the most prepared for a shootout. They missed all three of their chances and conceded Morocco's three.