In their first-ever meeting in the World Cup, Brazil was utterly dominant against South Korea. In their third appearance in the round of 16, South Korea fell to favorites Brazil. Their miraculous run out of the group stages could not manifest to the quarter-finals.
A 4-goal thriller
A dominant first half put the game in favor of the Brazilians by the half-time whistle goals from Vinicius Jr in the 7th minute, and a penalty conversion by Neymar put them ahead early. Richarlison and Paqueta followed to ensure they had a good cushion with a four-goal lead heading into the interval. They eased off a bit in the second half, and the Korea Republic managed to score a consolation goal through the strike by Seung-Ho Paik in the 76th minute. However, it was too little too late to amount to anything. Brazil scored four goals in a knockout round game at the World Cup for the first time since 1998 when they won 4-1 vs. Chile. They also scored more goals in the opening 36 minutes of the match than in their three group-stage games combined, where they scored three times. If you want to know about Will Ronaldo Add To His World Cup Goals Tally, click here.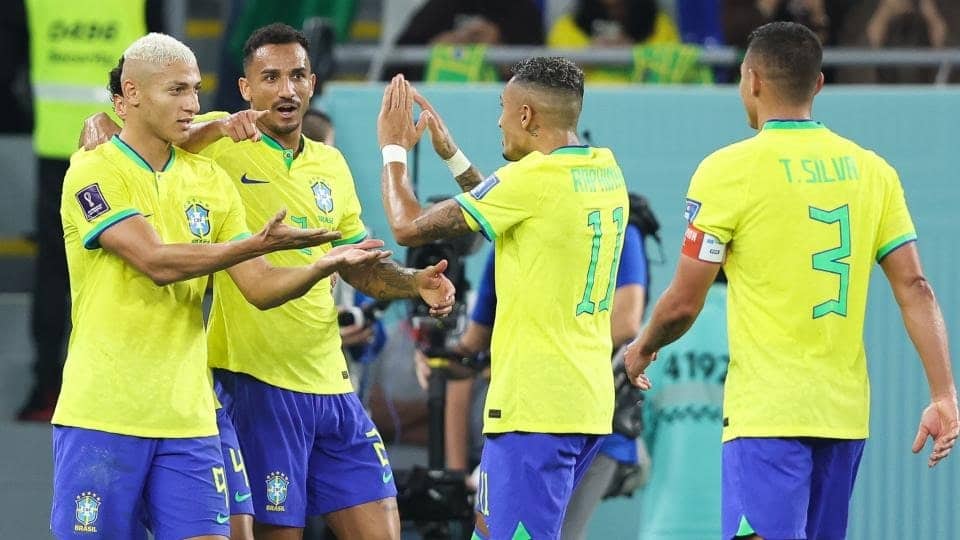 Credits: Sporting News
Neymar Jr, who was coming back from injury, became just the third Brazilian to score in at least three editions of the World Cup (2014, 2018, 2022), alongside legends like Pelé (1958, 1962, 1966, 1970) and Ronaldo (1998, 2002, 2006).
They matched up against Croatia.
Croatia, who also qualified for the quarter-finals after eliminating Japan in a true Croatian fashion, is now set to play Brazil in the quarter-finals. Croatia has progressed from all three appearances in the round of 16 at the World Cup, winning on penalties in the last two in 2018 and this year, 2022. This match will mark just the fifth time these two football nations have played each other. It will be just the third time in the history of the World Cup that they have played each other.
The most recent match between these two sides was four years ago in a friendly just before the World Cup in Russia. Brazil dominated and scored twice while holding back the European side to no goal. Roberto Firmino, who was not selected for the tournament in Qatar, sealed the win in stoppage time. This was after Neymar had broken the deadlock in the 70th minute. Times have passed, and things have changed. Brazil went on to suffer a quarter-final knockout, while Croatia made it to the final, where they lost to France.
So far, the 2018 Russia World Cup runners-up have shown resilience and toughness. They remain a formidable opponent to any of the teams remaining in the tournament.