Switzerland has featured in the FIFA World Cup tournament twelve times. Their best record remains the quarter-finals they have reached three times, in 1934, 1938, and 1954. At Qatar World Cup, they were drawn up in Group G with Brazil, Cameroon, and Serbia, and they finished as runners-up after Brazil, who won on a goal difference. Losing only to the Selecao, Switzerland racked up their six points, winning their opener against Cameroon 1-0, before closing the group stages in a 3-2 defeat of Serbia. If you want to know about Morocco Faces Spain In A Mediterenian Derby, click here.
Fairly earned spot
Going into the last group stage matches, the last spot out of Group G was highly contested. Switzerland emerged most worthy after winning the 5-goal thriller. Swiss captain Xherdan Shaqiri opened the scoring for his side in the 20th minute, and Mitrovic leveled it for Serbia six minutes later. Dusan Vlahovic, who plays for Juventus, gave Serbia a short-lived lead in the 35th, only for Switzerland to be brought back in the game less than ten minutes later. Freuler's second-half goal saw them send Serbia home in a fiery encounter. There was little between the two sides in a hectic first half, but the Swiss took control of the match after the break and never let go. The victory saw them run away with the coveted last spot in Group G.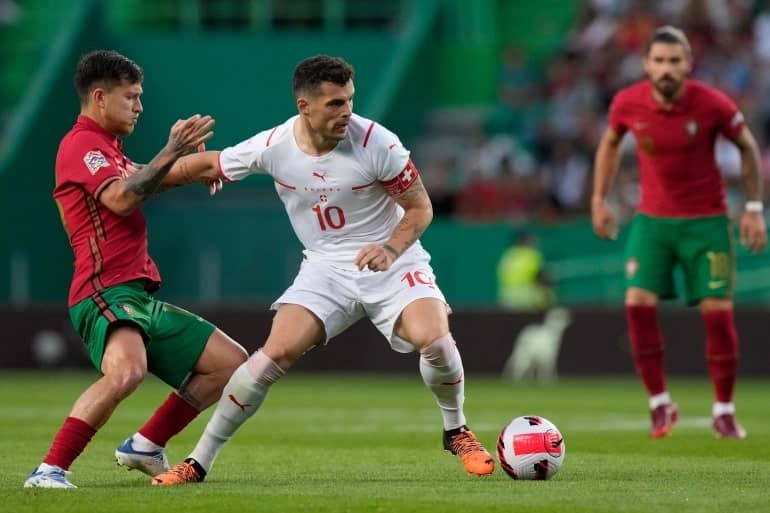 Credits: Al Jazeera
Matched up with favorites
Their match-up against Portugal will mark Switzerland's second round of 16 features in a row. In 2018, they lost 1-0 to Sweden at the same stage. However, the task against Portugal looks more extensive this year.
The Portuguese came to the Qatar World Cup as one of the favorites. Drawn up in Group H against Ghana, Uruguay, and South Korea, Portugal cruised through the group losing only to South Korea. Their win against Uruguay was the one that cemented their spot in the round of 16. Portugal took the lead with their first shot on target. Fernandes curled what was supposed to be a cross straight into the net. Ronaldo felt he had gotten a touch and tried to claim the goal, which, after the review, was awarded to Fernandez. Gomez hit the post for Uruguay before Suarez, and De Arrascaete also came close. A handball decision was awarded against Gimenez, and Fernandes converted the penalty. The Manchester United midfielder came close to getting a hat-trick, but he hit the post deep in stoppage time.
Despite losing to South Korea in their final group-stage match, Portugal is still among the contenders for the trophy. With a well-balanced side of experienced veterans and budding young stars, the former European champions are not to be slept on.