Despite winning 2-0 in their final game of Group H against Ghana, Uruguay has been eliminated from the 2022 Qatar World Cup. The former world champions had qualified for the World Cup fourteen times, with their best performances being in 1930 and 1950, when they won it all.
The South American side has now failed to make it past the round of 16 four times; in 1962, 1974, 2002, and now 2022. In Qatar, coming out of Group H drawn up against Portugal, South Korea, and Ghana, Uruguay finished 3rd with four points. If you want to know about Cameroon and Ghana Do Not Qualify, click here.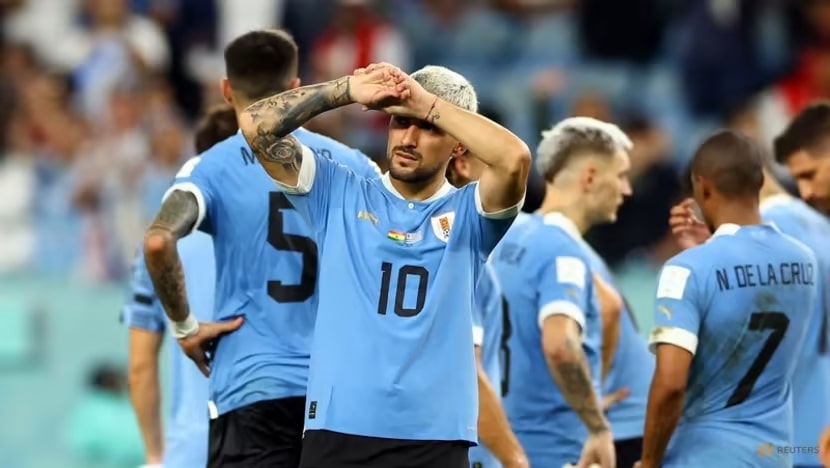 Credits: CNA
Knocked In The Final Lap
Given their history, specifically their quarter-final matchup in 2010, the drama was much anticipated when Uruguay played Ghana on Friday. However, for most of the game, Uruguay had dodged smoke in a relatively one-sided game. Going into halftime, they had a 2-0 comfortable lead over the Black Stars and sat in the second position in Group H, ahead of South Korea.
For most of the second half, Uruguay fans were at the edge of their seats, hoping that South Korea, who was tied at 1-1 with Portugal, did not get to score a second goal. The dreaded, however, happened in the 91st minute when Wolverhampton's Hwang Hee-chan scored a winner off an assist from Son Heung-min.
Uruguay, who was looking to make the elimination stage for the 10th time in their World Cup history, had done well to score two goals against Ghana. But this was still rendered insufficient by South Korea, who matched the number against Portugal making their tally of goals scored higher than that of Uruguay. Even though the two sides were tied in points and goal difference, South Korea secured a runner-up behind Portugal because of the total number of goals scored.
Tears And Controversy
With just a few minutes left in Uruguay's match against Ghana, South Korea scored goal number two in theirs against Portugal. This pushed Uruguay down to number three in Group H and out of position to qualify for the round of 16. Throughout the Al Janoub Stadium, fans and players of the Uruguayan side were sent into an inevitable state of anxiety, with some shedding tears.
Unfortunately for Uruguay, two of their best players, Darwin Nunez and Luis Suarez, had already been subbed out, leaving Edinson Cavani and Federico Valverde to pursue a saving goal. Cavani was given a golden opportunity when he went down inside the penalty area, but he was denied by referee Daniel Siebert who waved away the appeal.
When the full-time whistle was blown, furious Uruguayan players swarmed the officials in an altercation that had Cavani and Gimenez booked with yellow cards. This chaotic ending marked the first time in their World Cup history that Uruguay has failed to win at least two games in the group stage.