South Korea remains the only Asian country to have reached the semi-finals of the World Cup, and this was when they were co-hosts with Japan in 2002. The only time they made it out of the group stage was in 2010, but they lost 2-1 to Uruguay in the Round of 16.
Coming into the FIFA World Cup in Qatar, South Korea was drawn up in Group H against Portugal, Uruguay, and Ghana and seemed to have slim chances of advancing. However, winning their last game against Portugal, they finished as runner-up, scoring four goals, two more than Uruguay, with whom they were tied in points. If you want to know about Japan Downs Spain Too But Germany Exits The World Cup, click here.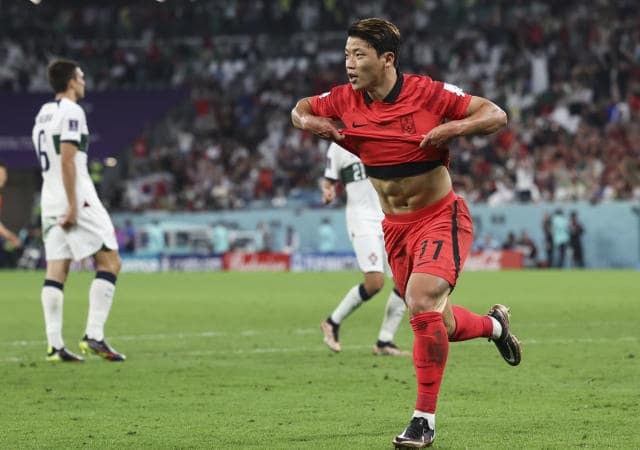 Credits: Yahoo! Sports
Can South Korea Beat Brazil?
Having finished second in Group H, the Asian side is set to play Group G leaders Brazil in Round 16. The match set on Monday, 5th December, in Doha will mark the first time in World Cup history that the two sides have met. On other occasions, South Korea has played Brazil a total of 7 times; the Brazilians have won 6 of those times, while Korea won once in 1999.
Their last meeting was a friendly match in June this year, where Brazil won by five goals to one. Brazil, unbeaten in qualifying for the Qatar World Cup, has won the trophy a record five times and is the favorite to win it all again this year. Coming out of Group G, Brazil won 1-0 in their opener against Switzerland before beating Serbia 2-0 in their second match.
They managed to lead the group with six points, despite losing 1-0 to Cameroon in their final group-stage match. South Korea, on the hand, barely made it to the last 16. Their only win came in a dramatic comeback over Portugal when Hwang Hee-chan scored a stoppage-time goal, assisted by Tottenham's Son Heung-min.
A Resilient Underdog
South Korea's 2-1 win over Portugal is not the first time they have defied the odds and emerged victorious; as hosts in 2002, they managed to beat Portugal, Italy, and Spain. Even though they lost 1-0 in the semi-finals to Germany, they demonstrated resilience at a high level. At the 2018 World Cup in Russia, South Korea shocked the world once more in a stunning 2-0 win over Germany.
Although this win, which was their only, was not enough to push them to the next stage, it was enough to deny the former champions Germany a chance to proceed. With an opportunity to match or even surpass their 2002 run, the resilient South Korean side has to first go through a well-balanced favorite, Brazil. Will their legendary hustle be enough to outlast Brazil's mastery of the game of football?