Over different periods in World Cup history, Belgium has been a household name in the tournament. Having featured in the competition 14 times, they stand among the most experienced teams.
From 1982 to 2002, Belgium reached six successive World Cups. A record bettered only by Spain, whose 2018 World Cup is their ninth consecutive qualification. Before 2018, their fourth-place finish at the 1986 World Cup was the best placement in their history. They, however, rewrote this bit of history in 2018 when they beat England 2-0 in Saint Petersburg. If you want to know about England Vs Senegal: Who Will Win The Hotly Contested Tie, click here.
Is This The End Of An Era?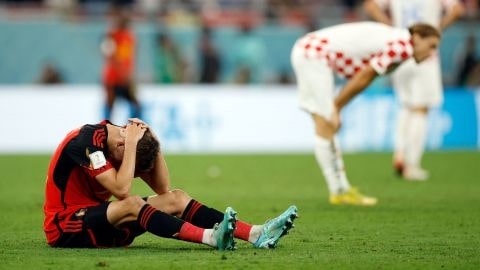 Credits: CNN
It is no surprise that Belgium's best World Cup run ever came at the 2018 World Cup in Russia. This has been a golden era for the European nation. In the past two World Cups, Belgium's squads have been star-studded with arguably some of their best players. In Brazil 2014, led by the former dominant Manchester City's Centre-back Vincent Kompany, Belgium rallied to the quarter-finals scoring a total of six goals while conceding only three.
This was highly attributed to the current Real Madrid goalkeeper Thibaut Courtois playing for Premier league's Chelsea. Belgium was a formidable opponent with a great goalkeeper because of a star-studded young core of Eden Hazard and Kevin De Bruyne.
The team was well balanced with experienced veterans like Marouane Fellaini, all the way to the 2018 World Cup in Russia, where they had their historic run. This time, they finished the tournament in third place behind Croatia and World champions France.
Coming out of group G unbeaten in Russia, Belgium beat Japan and Brazil before losing in the semi-finals to France, who went on and won the whole thing. They finished the tournament by beating England 2-0 in the third-place play-off.
What Next For Belgium
Finishing third in Group F at the Qatar World Cup, Belgium has been kicked out of the tournament. They managed to get only one win and a draw out of the group-stage matches. They tied against a tough Croatian side and took an unexpected 2-0 loss against Morocco. Beating Canada 1-0 in the final game was not enough to push them through to the last 16, as they came just a point behind runners-up Croatia.
Belgium's dismal performance at this World Cup can be attributed to the fact that most of their best players are declining from their physical peak. In addition, their key players, such as Romelu Lukaku and Eden Hazard, have been off and on injuries in the recent past.
 With most of their main players coming out of their prime, what next for Belgium? Who are the replacements?