For over fifteen years' football fans have been entertained by Lionel Messi and Ronaldo's Rivalry. Both players have been pushing each other For over ten years. Their rivalry has yielded 12 Ballon d'Or for both; Messi has 7 Ballon d'Or while Ronaldo has 5.
 This seemed like a year for either of the football G.O.A.T because it could be the last World Cup championship for both of them, considering their age. If you want to know about Can Messi and Argentina win the World Cup?, click here.
With Ronaldo's Portugal eliminated, Football fans will wait to see if we can have a sweet ending to the career of Lionel Messi.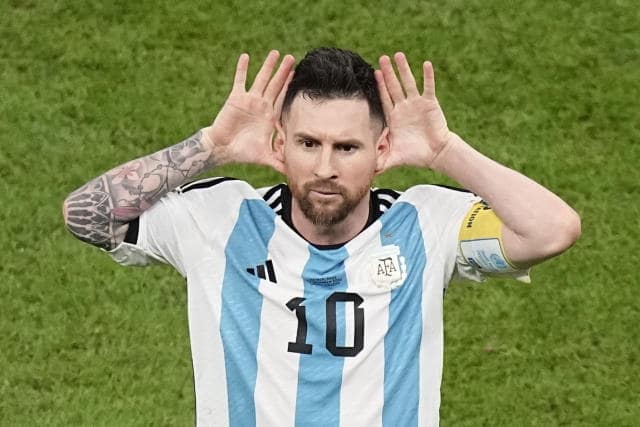 Credits: Yahoo! Sports
Tough Start for Argentina
Argentina had the worst possible start to this world cup after losing 2-1 to Saudi Arabia National team. Many think Argentina was weak and could not make it to round 8. The Argentines returned more robust and have now qualified for the semifinals. Argentina will play Croatia's National team in the semifinals of the world cup 2022.
Argentina vs Croatia Favorites
After eliminating the Netherlands national team through the penalty shootouts, Argentina will play Croatia National Team in the semifinals of the world cup 2022. It's easy to say that Argentina is the favorite to win this trophy, but we cannot rule out Croatia, who have not lost a match in this world cup.
Croatia has a pretty good team and will pose a significant challenge against the Argentines. The Croatian side has a good defense, a very experienced midfield, and good attackers. They don't have many big names, but their squad is well-balanced and can fight against any team.
Can Messi help Argentina against Croatia?
Argentina is the favorite to win this tie because of its rugged and well-balanced squad. Conversely, Croatia is very organized and can injure any team. Croatia eliminated brazil, one of the favorites in this tournament, in the quarter-finals.
Argentina will depend on Lionel Messi, arguably the best player in the world, to help them pass Croatia and maybe win it. Although Messi is a magician, football is a team sport, and Argentina will have to play as a team if they want to qualify for the world cup finals. 
What could go wrong for Argentina
Argentina and France remain the favorites to reach the finals, but we cannot ignore that they are playing against very organized teams and haven't lost a single match in this competition.
It will not be a walk in the park for Messi and his Argentine side. They will have to dig deeper to reach the final stage of the competition. Without team spirit, Croatia may shock Argentina just like they did against Brazil