With Senegal and Morocco already qualified for the last 16 at the 2022 Qatar FIFA World Cup, Ghana is looking to add to the list of African countries in the knockout stages. Coming into the tournament drawn up in Group H with Portugal, South Korea, and Uruguay, Ghana has been among the favorite to make it out of the group.
In Ghana's opener against Portugal, they lost 3-2 in a thrilling match. The score was similar in their match against South Korea, but with the Black Stars in the winner's column. Currently sitting second to Portugal with three points, Ghana's next and final group-stage match is against Uruguay. If you want to know about England Vs Senegal: Who Will Win The Hotly Contested Tie, click here.
Familiar Rivals
At the 2010 World Cup games in South Africa, Ghana became only the 3rd African country to make it to the competition's quarter-finals. Cameroon had previously achieved this in Italy in 1990 and Senegal in Korea-Japan, in 2002. In their historic run, Ghana came out of Group D as the runners-up before eliminating the United States of America in a 2-1 win.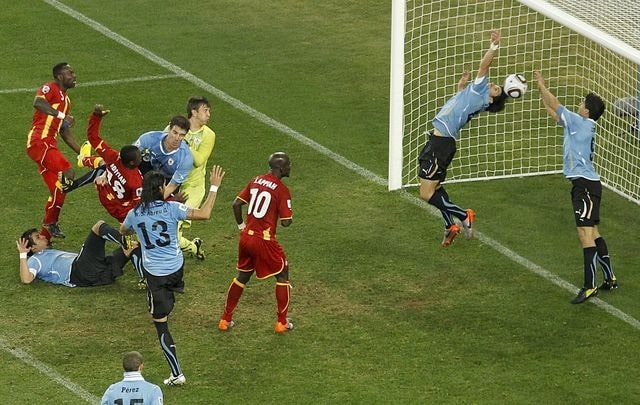 Credits: The Guardian
In the quarter-finals in South Africa, Ghana was eliminated by Uruguay in a thrilling match full of drama. Ghana had taken an early lead the former Inter Milan midfielder Sulley Muntari scored just before half time. Uruguay, however, leveled the game in the 55th minute through their legendary player, Diego Forlan. The two teams were still tied up at the end of added time after the end of regulation time.
The deadlock carried on for most of the extra time; this changed in the 120th minute when Ghana got a clear chance at the goal, which Luis Suarez blocked using his hand. The former Liverpool scoring machine used his hands to deliberately deny the Black Stars a chance at being the first African country to qualify for the semi-finals.
Suarez earned a red card, and a penalty was awarded to Ghana, but it was missed by Asamoah Gyan, who hit the crossbar. The two sides went on to penalty shoutouts to find a winner. However, Ghana lost 4-2 in the shootouts ending their historic run and sending heartbreaks throughout the African continent.
Ghana's Chance At Retribution
So far into the Qatar World Cup, Uruguay has managed only a draw in a goalless encounter with South Korea and sits bottom of Group H with a single point. Winning against rivals Ghana would see them proceed to the last 16 depending on whether and by what margin Soth Korea wins against group leaders Portugal.
Conversely, Ghana has slimmer chances of qualifying for the elimination stages, as even a draw against Uruguay might be enough to see them through.
Will Ghana get retribution and another chance at history, or will Uruguay find a way of climbing the 'mountain' ahead?