Morocco has qualified for the World Cup 6 times; in 1970, 1986, 1994, 1998, 2018, and 2022. Before the 2022 Qatar World Cup, their best run was in 1986, when they also qualified for the knockout stages. In this tournament, Morocco and Cameroon, Ghana, Tunisia, and Senegal were the countries representing Africa at World Cup.
On Thursday evening, they solidified their spot in the last 16 with a commanding 2-1 win over Canada. Chelsea's Hakim Ziyech and Sevilla's Youssef En-Nesyri both scored, earning them victory and the top spot in Group F over favorites Croatia. If you want to know about Japan Downs Spain Too But Germany Exits The World Cup, click here.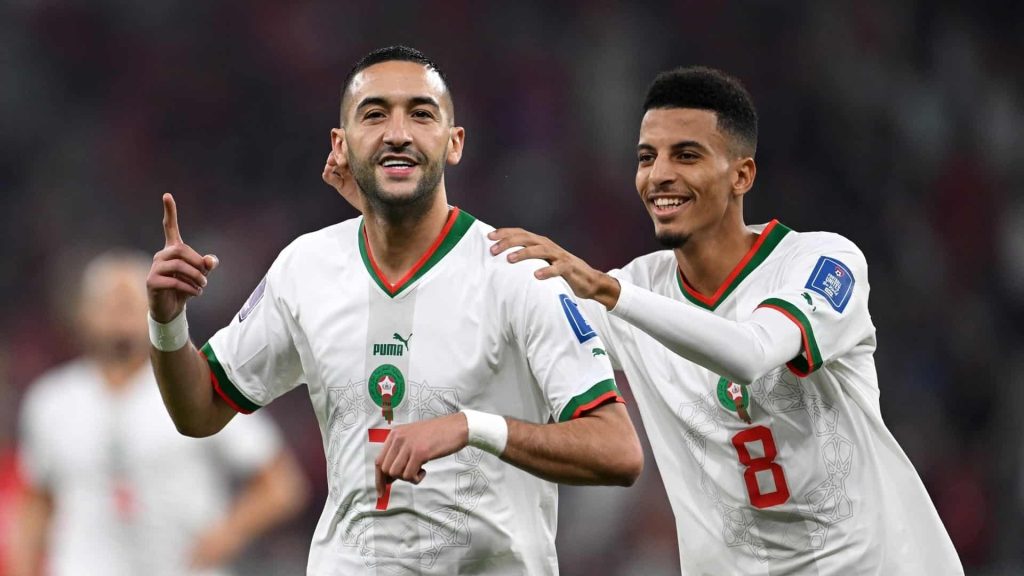 Credits: Goal.com
An Underdog Thriving
Coming into these World Cup competitions, Group F looked brutal for Canada, and Morocco, Croatia, and Belgium seemed most likely to fill the top spots. Coming off a trophy contention in the 2018 World Cup against France, Croatia still looked too formidable of an opponent.
A star-studded Belgium side, also coming from an impressive run in 2018, seemed very much of a force to reckon with too. Morocco, however, came spewing upsets. In their opener against Croatia, they managed to secure their first point in a barren draw. The most stunning upset, however, came in their second group stage match against a Belgium side with better World Cup experience.
Mostly, it was a scoreless game until the 73rd minute when Moroccan captain and Besiktas' defender Romain Saiss scored and gave them the lead. Then, two minutes into stoppage time, Toulouse's forward Zakaria Aboukhlal sealed the deal with Morocco's final goal. Going into their last match of Group F, the North African side needed at least a draw to proceed to the round of 16 for just the 2nd time in their World Cup history.
Credits: Middle East Eye
Their 2-1-win over Canada was more than enough to see them through.
Unfamiliar Neighbors
Spain has been a household name at recent World Cup tournaments. The 2010 champions were undoubtedly among the favorites coming into this World Cup. However, in Russia 2018, the Spaniards were unexpectedly eliminated in the round of 16 by the hosts, Russia. This was through penalty shootouts after drawing 1-1 at the end of extra time.
In Qatar, 2022, they opened with a 7-0 trashing of Costa-Rica, before tying 1-1 with Germany. After that, Spain narrowly qualified out of Group F by edging rivals Germany on goal difference, and this was after they lost their last Group stage match, 2-1, to Japan.
Matched up against their North African neighbors Morocco, the two sides are looking forward to their second meeting ever at the World Cup stage. The other only time they met was in the Group stages at the 2018 World Cup, where they drew 2-2. This tie has to be broken on Tuesday for either side to advance in the tournament.