Contrary to how Argentina started the 2022 World Cup competition, everything now looks possible for Argentina National Team; despite the lowest start of the 2022 World Cup, Argentina has proved all the doubters wrong by qualifying for the world cup Finals.
Argentina lost 2-1 to Saudi Arabia in the first match of the competition, and fans and pundits had their idea about how far the Argentines could go. Messi's side came back and is now one game away from becoming World Cup champions. If you want to know about France Vs Morocco: Who Goes to the Finals?, click here.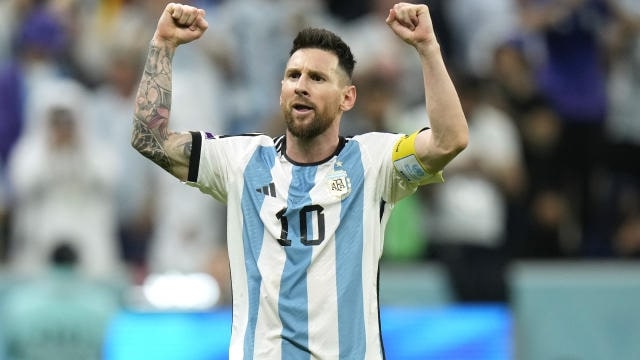 Credits: Yahoo! Sports
Smooth Win for Messi
On a Magnificent night at Lusail Stadium, Messi kept his dream to win the world's biggest trophy on course. Messi scored the first goal from a penalty spot kick against Croatia goalkeeper Livakovic who had been his country's hero against Japan and Brazil. Messi also masterminded the other two goals for the Manchester city Starlet Julian Alvarez giving a comfortable 3-0 win.
The Argentine Talisman is also the joint 2022 world cup scorer and his Paris Saint Germaine teammate Kylian Mbappe. The golden boot race is a Parisian affair between Lionel Messi and Kylian Mbappe.
An Amazing end to an Amazing Football Career
Every football fan in the world is waiting for the Messi moment. It is the second time Messi has led his Argentine side to the World Cup finals. Argentina last qualified for the World Cup finals in 2014 and lost to the Germany National team.
Messi has been a joy to watch for over 15 years; while it looks like his last World Cup competition because he is 35 years old, many football fans would wish for a perfect ending to his exciting career. He has won many football awards throughout his career, like Ballon d'Or and the champions league. Adding the world cup trophy for himself will make him the incredible ending to his immaculate football career.
Team Motivation
The Argentine national team is very motivated to win this title for Messi. Every player is giving everything to ensure an excellent ending to the career of their Talisman.
There is increased creativity and compactness in the Argentines squad brought by Enzo Fernandez, Julian Alvarez, and Alexis Macalister. The team is more solid and plays with hire spirit. The togetherness and the fighting spirit in the Argentines national team may give Argentina the trophy.
Can Argentina Win it in the Finals?
While we are waiting to see who between Morocco and France will join Argentina in the finals of the World Cup, Argentina has the highest chance of winning the 2022 World Cup. Argentina has an excellent opportunity to win it as the team looks more compact, experienced, and organized than the previous World Cups. We will wait to see whether Lionel Messi can win it.