Brazil is by far the best team in World Cup history; however, the past two decades have been trying for the 5-time champion. Since 2002 when they won it, the Selecao has been to the semi-finals once; this was when they suffered a history 7-1 loss to the eventual champions Germany. Croatia's elimination from the Qatar World Cup marks the fourth time they have failed to go past the quarter-finals since winning the trophy in 2002. If you want to know about England vs France Football Match, click here.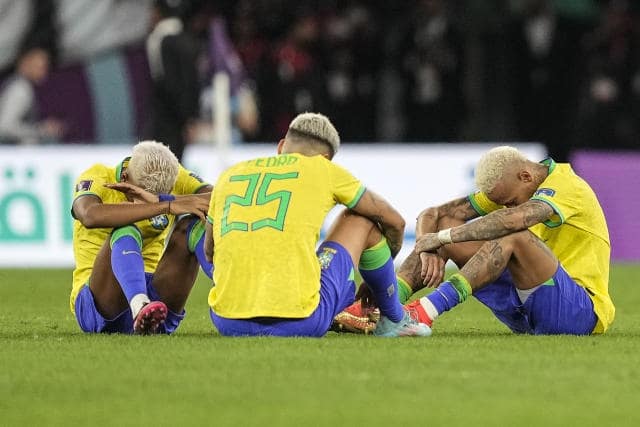 Credits: Yahoo Sports
Quarter-finals against Croatia
Like in every other World Cup, Brazil were among the favorites coming to Qatar. Their 4-1 defeat of South Korea in the round of 16 only asserted their claim on the trophy. However, when they faced a down-to-earth Croatia, their loss through penalties marked the first time Croatian in history that the European side have qualified for consecutive semi-finals.
This was after they were 1-1 at the end of extra time. Neymar Jr seemed to have put the Selecao on the path to the last four with a brilliant goal to break the deadlock in stoppage time in the first half of extra time. Neymar's goal meant he has equaled Pelé's record as Brazil's all-time top scorer at 77.
Furthermore, Neymar has scored three goals in six World Cup appearances against European nations, with all three coming against Croatia, 2 in 2014 and 1 in 2022. However, Bruno Petkovic equalized from a deflection to keep Croatia alive in the second half of extra time.
In the penalty shootouts, Croatia goalie Dominik Livakovic who had been exceptional during the game, worked his magic again to deny Rodrygo Silva from the penalty spot. On the other side, the Croatians were perfect from the spot, piling the pressure on Marquinhos to score. The PSG defender hit the post with a strong kick, sending Croatia through and Brazil home yet again at the quarter-final stage.
Croatia has reached the semi-final of the World Cup on all three occasions, and they made it out of the group stages in 1998, 2018, and 2022. Apart from the final in Russia 2018, they have now won all their elimination stage games. The European side has won 4 out of 5 on penalties.
Brazil's Woes Continue
The Selecao have now been eliminated from four of their last five World Cup quarter-finals, with the only time they played in the semi-finals being when they lost 7-1. In addition, Brazil has been eliminated from their last six World Cup knockout stage games against European nations since a 2-0 victory over Germany in the 2002 final.
Despite having some of the best players in the world, their struggle with under-celebrated coaches like Scolari and Tite. So can Brazil get back to its winning ways, or are their best days behind them?