Argentina won against France in a heart-taking encounter. It is regarded as one of the best World Cup finals, if not the best. The classic game ended in a 3-3 draw and advanced in a penalty shootout where Messi's side edged Argentina. Argentina was 2-0 for a significant part of the game, and it looked as if the game was over until the 3-minute magic from Mbappe to equalize and make it 2-2
The match could not be decided in 90 minutes, so the game headed for extra time. Messi scored for Argentina, but Mbappe equalized from the Penalty Spot. France had a chance to win it at the end of the spare time when Frankfurt striker Kolo Muani came one-on-one with Emiliano Martinez but couldn't get the ball past him. If you want to know about Richest Footballer in the World click here.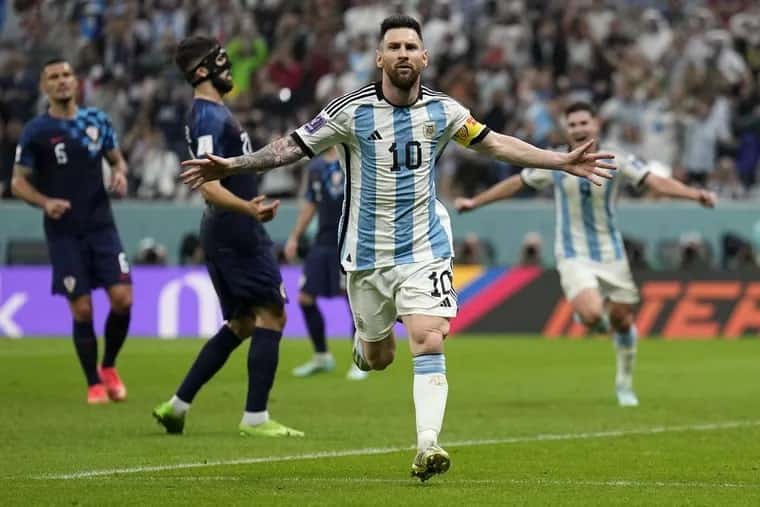 Credits: The Philadelphia Inquirer
 The fantastic game went to penalties, where Argentina edged France 4-2. Mbappe and Kolo Muani scored for France, while Kingsley Coman and Aurelian Tchouameni couldn't Score. All four Argentine penalty-takers scored the goals. Based on experience, Argentina was more prepared for the penalties than France as they experienced players to take the penalties.
Mbappe vs Messi
Paris Saint-Germain players fought entertainingly to place their team in winning positions. Messi threw the first punch from the spot kick to send Argentina ahead of France. Argentina also scored through Paulo Dybala and went 2-0 up.
The match looked over until Mbappe scored two goals in three minutes to equalize for France. Mbappe scored a Van Persie- like goal to make it 2-2 for France. Messi scored again in extra time to give Argentina a 3-2 lead, but Mbappe equalized it from a penalty spot to send the game to penalties.
Mbappe Hattrick
Mbappe showcased his Class by scoring a hat trick in a World Cup final. Mbappe scored all the goals for France against Argentina. The young talent who is not yet 24 years took the world by storm. His electric speed, confidence, and ability to finish amazed his fans. At his age, he has a better stat than Lionel Messi had at that age.
The boy is expected to take over from Messi and Ronaldo. It's not easy to match the two, but he has the ability and composure to do so. It will be a joy to watch him.
Great Ending for Messi
Lionel Messi has been a star for over 15 years. He had won all possible accolades but the World Cup trophy. He always wanted to win it for Argentina before retiring from football. Messi will end his football career as the greatest player of all time, having won all of the Top competitions. What a way to retire.