The world's richest footballers are not necessarily the best footballers. The richest footballers are those who have been able to earn the most money from playing football. They can be described as the highest paid footballers in the world. The Richest Footballers in the World are listed below.
It's no secret that the World's top ten highest-paid footballers are not only the best in the game, but they are also the wealthiest. Their incredible performance on the pitch has enabled them to amass vast fortunes through hefty salaries and lucrative sponsorship deals. It is this combination of talent and financial success that has made them the most sought-after stars in the World of football. As the whole World eagerly awaits the FIFA World Cup Final between two strong teams, France and Argentina, today, December 18, let's take a look at the World's wealthiest footballers and explore what makes them so successful. If you want to know about FIFA World Cup Host Countries, click here.
Richest Footballer in the World & Their Net Worth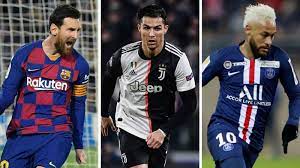 Image Credit: airzoneload
From high-profile sponsorships to lucrative contracts, we'll uncover the financial secrets of the World's top players and why their wealth continues to grow. So join us as we get ready to witness the biggest football spectacle of the year! Football is an incredibly lucrative sport, with millions of dollars being generated through brand sponsorships, massive signing-on fees, and broadcasting rights across national leagues and international levels.
1. Faiq Bolkiah Net Worth – $20 Billion
The World's richest footballer is none other than Faiq Bolkiah, son of the Prince of Brunei, with an estimated net worth of an astonishing $20 billion. Although Messi, Ronaldo, and Neymar may be the highest earners in football, their net worth is far below that of Faiq Bolkiah. He is truly known as a league of his own! The skipper of the Brunei national team is no ordinary man – he is the son of Jefri Bolkiah. As one of the known wealthiest families in the World, their influence is far-reaching, and their legacy of success is continued through the skipper's achievements on the field.
At just 24 years of age, he had already experienced the top-level academies of Southampton and Leicester City. Unfortunately, he couldn't secure a spot in any of the senior squads of these Premier League teams, so in 2020 he decided to move to Maritimo in Portugal in search of more opportunities. Here, he is looking to build on the skills he developed during his formative years and establish himself as a key player. After spending an entire year playing for Chonburi in the Thai league, he has made an impressive 14 appearances and recorded four assists. His impressive performances have made him an integral part of the team and have helped them achieve success on the pitch. Bolkiah has earned six caps for his national team and has found the back of the net on one occasion. His impressive record has solidified his place as a key player on the side.
2. Mathieu Flamini Net Worth – $10 Billion
With 10 billion dollars, Although he may not be considered one of the greatest footballers in history, the former Arsenal midfielder has achieved tremendous success as an entrepreneur in his secondary career. His accomplishments in the business world demonstrate his commitment to excellence and his ambition to strive for greater heights. Known as a co-founder of GF Biochemicals, an industry-leading producer of levulinic acids and derivatives. Headquartered in Italy, our company has a presence in the Netherlands as well. His partner, Pasquale Granata, is a key part of the team. Together, they strive to provide the best possible services and products to our customers.
3. Cristiano Ronaldo Net Worth – $500 Million
Cristiano Ronaldo is more than just a legend on the soccer pitch. He is also a savvy business tycoon with a multitude of sponsorship deals with some of the World's largest brands, such as Nike, ZTE, KFC, Samsung, and many more. His success in the business world is just as impressive as his success on the field. Cristiano Ronaldo, commonly known as CR7, is not only an iconic footballer, but he is also a successful entrepreneur. With a total net worth of close to $500 million, his business ventures have allowed him to become one of the most successful personalities in the World.
4. Lionel Messi Net Worth – $400 Million
Although Lionel Messi may be earning more with Paris Saint-Germain than Cristiano Ronaldo's salary at Manchester United, the Argentine still lags behind his professional rival in terms of net worth. Messi's net worth may not be as high as Ronaldo's, but his impressive career earnings still make him one of the wealthiest footballers in the World. Like his fellow football superstar, Cristiano Ronaldo, Lionel Messi has also made his mark on the fashion world with the launch of his own clothing line, the Messi Store.
Launched in 2019 in Barcelona, the Messi Store is a premium brand backed by a sizeable investment of £26m from the footballing icon in 2017. As well as the clothing line, Messi is also the proud owner of the MiM hotel chain, a luxurious chain of top-class hotels. With an estimated net worth of $400 million, the player has secured a lifetime contract with Adidas and endorses an impressive array of brands, including Pepsi, MasterCard, and Budweiser. This lucrative endorsement portfolio ensures that the player will remain a global presence for years to come.
5. David Beckham Net Worth – $400 Million
Although he may have retired from the sport a while ago, the England international continues to be a global superstar. As a co-owner of MLS side Inter Miami, he remains the brand ambassador for renowned companies such as H&M, Adidas, and L'Oreal. His star power continues to shine, making him a beacon for many aspiring athletes. David Beckham earned an astonishing £40,000 a day over the two-year period of years 2016,2017 thanks to dividends from his company DB Ventures Limited. That's an impressive £29 million in total.
David Beckham's incredible wealth continues to astound. In 2017, he earned an impressive £18.75m dividend from his company DB Ventures Limited, in addition to the £10.2m dividend he received in 2016. His estimated net worth is an unbelievable $400 million—an incredible feat for a man who started his career as a relatively unknown footballer. This impressive fortune speaks volumes about Beckham's business acumen, and his continued success is a testament to his hard work and dedication.
Final Thought
It's no wonder that football has become one of the most popular sports in the World – a sport where success is measured in terms of money, prestige, and legacy. With its spectacular tournaments, such as the FIFA World Cup, and the huge amounts of money involved, football has become one of the most popular and widely-watched sports in the World today. The thrilling atmosphere of the stadiums, the passionate fans, and the incredible skill of the players make it an exciting and captivating experience, no matter where you are. We hope this blog post about the richest footballer will be informative for you.
Who is the World's richest footballer?
Who is the richest footballer in the world?
Faiq Bolkiah is the richest footballer in the world. He has a net worth of $20 billion.
How much money did Cristiano Ronaldo earn last year?
Cristiano Ronaldo earned around $62 million last year.