Heading into the semi-finals at the 2022 Qatar World Cup, defending champions France are still a force to reckon with. With their quarter-finals victory over neighbors England, the 2-time winners have now reached the World Cup semi-final for the seventh time.
This is also the first time they've done so in consecutive tournament editions since 1982 and 1986 tournaments. The game also marked France manager Didier Deschamps' 13th World Cup win in just his 17th game in charge, with only Brazil's Felipe Scolari with 14 and Germany's Helmut Schon with 16 winnings more in the competition. If you want to know about Cristiano Ronaldo's eluded by last chance at winning the World Cup, click here.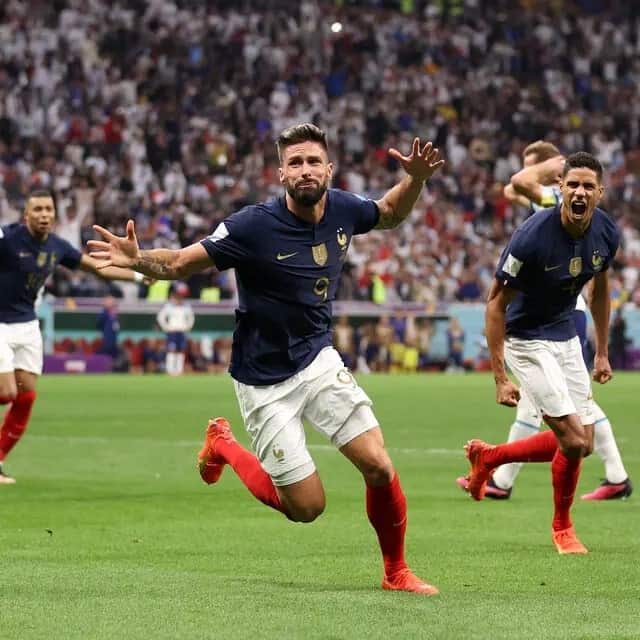 Credits: The New York Times
Seventeen minutes into the semi-finals clash, Real Madrid midfielder Aurelien Tchouameni broke the deadlock with class and power. The 22-year-old struck the ball from an unbelievable 25 yards, cruising past England's goalie Jordan Pickford, who made futile efforts to dive for it. However, Les bleus' opening goal was controversial, as the English felt a foul had not been awarded for a tackle on Bukayo Saka as the French were building up to the goal.
Seven minutes after the break, England got an opportunity to get back in the contest when Arsenal's Saka was fouled in the box. Harry Kane stepped up and sent a hard shot past his Tottenham teammate Hugo Lloris leveling the score to England's relief.
Despite England controlling most of the second half, Olivier Giroud took back the lead in the 78th after he headed a brilliant cross from Antoine Griezmann. A second penalty was awarded via VAR to England in the 81st minute, Kane had yet another chance to keep England's hopes alive for a second time, but he sent it flying wide.
Marcus Rashford came in as a substitute in the 85th minute and had a final chance to equalize for the Three Lions in the 11th minute of added time. The Manchester United forward did well to send a free kick over France's wall, but the ball descended late and landed on the roof of the net.
The 56-year drought continues
England's best-ever performance remains winning the cup in the 1966 tournament when they were the hosts. Together with the 1990 edition, they also finished in fourth place in the 2018 World Cup in Russia. Like at the 2022 World Cup in Qatar, the Three Lions reached the quarter-finals on six other occasions.
At this year's edition, the English came in as favorites; they started strong, going to the quarter-finals unbeaten, drawing just once. They looked pretty matched against reigning champions France in the quarter-finals but could not get past Les Bleus.
When will the Lions roar again?