In this blog post, I'll tell you about the all time winners of the FIFA World Cup. Are they all from Europe? Well, yes, but not always. And that's what makes the tournament so special.
Are you a soccer fan and interested in the FIFA World Cup? Well, you have come to the right place! Every four years, football in all its pomp and glory explodes onto the world stage with numerous passionate fans across all nations engaged in a thrilling month-long tournament to crown the world champion. Winning this prestigious tournament brings more than just bragging rights; it is an honor, a privilege, and something no player could ever forget in their careers. The competition examines great physical strength, mental fortitude, and team unity to overcome the best professional football sides on Earth, making it one of the toughest trophies any team – or individual – can win. With remarkable stories of triumph over adversity being unearthed right up until the final whistle of each edition since 1930, every FIFA World Cup victory gives football fans something to celebrate year after year. If you want to know about Brazil FIFA World Cup History, click here.
First World Cup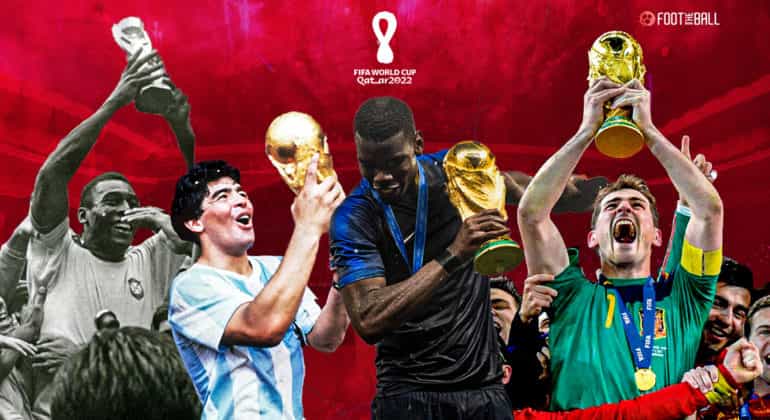 Image credit: foottheball
The first-ever World Cup, held back in 1930, was an astonishing success. Uruguay hosted the event and emerged triumphant as winners of the tournament. Thirteen teams initially took part in the debut competition, with the final between Argentina and Uruguay being watched by a reported 93,000 attendees. The continuous growth over the past decades is astounding; from an initial thirteen teams, it has grown to 32 participating nations in 2018's edition and is set to increase even more to 48 nations by 2026 – showcasing the immense appeal that this global event holds across countries.
Every four years, players across the globe come alive with anticipation of the ultimate sporting event – the World Cup. The opportunity to represent their country and themselves on such a grand stage is often seen as a once-in-a-lifetime chance for these athletes, and for some, it may be one of the defining moments of their careers. Through this competition, many remarkable efforts have been commemorated, traditionally generating fever-pitched excitement and leaving an indelible impression on soccer's illustrious history. It can be argued that teams will endure victory or defeat to make their countries proud through the power of sportsmanship, thereby creating enduring legacies that stretch well beyond the final whistle.
Winning the World Cup in Majority
As football fans around the globe eagerly await Qatar 2022, it is worth taking a look back at the history of the World Cup to see which nation has been triumphant the most often. Unsurprisingly, Brazil reigns supreme when it comes to winning championships, with five titles to their name. Germany and Italy have each won on four occasions, with all three nations firmly ensconced as revered forces on the international football scene. With excitement building for Qatar 2022, could we be looking at yet another chapter being added to this illustrious history? With barely a few years remaining until we see which nation will reign supreme in Qatar 2022, these three countries stand out as legitimate contenders. Known for their flair and ability to exude a sense of joy and passion on the footballing field, Brazil remains one of the favorites year after year despite not winning since 2002.
Brazil
Brazil has a long, rich history of success in the World Cup. In 1958, their first World Cup triumph saw Pele, aged just 17, score a brace in the final against Sweden. Four years later, the Seleção had another triumphant day; Amarildo, Zito, and Vava all got on the scoresheet as they beat Czechoslovakia in 1962 final. Brazil's third World Cup victory is arguably one of the greatest. Not only do many argue it was one of their most talented teams ever assembled, but 'El Dístor Technico' went even better — Pele scored in the 4-1 win over Italy to become one of only three players to have scored a goal in 3 different finals!
In 1970, one of the most iconic games of all time was when Brazil faced off against Italy at the World Cup final. Much to everyone's surprise, Pele again graced us with his presence and scored a goal sealing his country's second World Cup title.
The 1994 World Cup final, which took place in the Rose Bowl stadium in Pasadena, California, was an unforgettable match between Brazil and Italy that ended goalless after ninety minutes of play. Both teams gave it their all on the pitch, but neither side could break the deadlock until Brazil eventually triumphed over Italy on penalties. It was heartbreaking for Italy as Roberto Baggio – one of the team's stars players – missed the decisive penalty kick. Fast forward to 2002, and the stage shifted to Japan when Brazil and Germany clashed in another nail-biting final of supremely talented teams. After a tense 90 minutes, Brazil emerged victorious with two goals from Ronaldo that sent his country into celebration. For many Brazilian fans, this victory marked a perfect end to an already memorable tournament.
Germany
The 1954 World Cup saw history being made when West Germany was crowned the winner after beating Hungary 3-2 in the final. With one goal put into their net during injury time in extra time toward the end of the match, Helmut Rahn brought home a much-awaited victory for West Germany. In 1974, with a 1-goal lead over The Netherlands, Gerd Muller scored a goal to finish up the winning streak for his nation and make West Germany two-time champions at the world cup. This was an incredible feat for this nation since it had come so far within 20 years to win its second championship.
On July 8, 1990, in the world-famous Stadio Olympico of Rome, West Germany claimed glory in the World Cup with a 1-0 victory over Argentina. This historic moment was set in motion by a penalty from Andy Brehme that gave West Germany the lead early in the second half. Twenty-four years later, on July 13, 2014, history would be repeated as Mario Gotze scored late in extra time to end another epic battle between Germany and Argentina. This time around, the roles were reversed; however, Germany ended up victorious as yet another World Cup dream was realized. With the help of determined persistence, skillful play, and tactical brilliance, Germany had at last cemented itself as one of the greatest football sides ever assembled.
Italy
Both 1934 and 1938 served as championship years for Italy in terms of international football. In 1934, Angelo Schiavio's goal saved the Italians from a devastating tie and saw them take home their first-ever World Cup title. Four years later, Gino Colaussi and Silvio Piola scored twice each as Azzuri cruised to a 4-2 win over Hungary in the quarterfinals. While there have been far more celebrated champions since then, these two matches' marked historic occasions, with Italy claiming their right to call themselves one of football's greats.
Italy has long been considered one of the greatest soccer nations, but they cemented their place in this conversation with back-to-back World Cup wins in 1982 and 2006. In 1982, Italy beat West Germany 3-1 in the memorable final as players like Paolo Rossi, Marco Tardelli, and Alessandro Altobelli scored big goals to secure victory. Then 24 years later, Italy hoisted the trophy as punishment kicks from Fabio Grosso secured a win over France despite Zinedine Zidane's infamous headbutt to Marco Materazzi in extra time. Thanks to these two World Cup victories, it is no surprise that Italy is now considered one of the greatest international sides in all of soccer's history.
Argentina
1978 and 1986 were two significant years in Argentina's football history. In 1978, Mario Kempes scored twice for the Argentine team in a 3-1 win against the Netherlands, and it will always be remembered as one of the nation's triumphant games. Eight years after that stirring victory, their footballers faced another powerhouse of the game – West Germany – during a thrilling FIFA World Cup Final match in 1986. Then, it was Jorge Burruchaga who netted the winner for mercurial Argentina, handing them one of their most joyous victories on the field. It was an emotional affair, with both sets of fans roaring and cheering continuously throughout the match; truly a momentous occasion that etched itself in history forever.
FIFA world cup all-time winners list
| | | |
| --- | --- | --- |
| Year | Winners | Runners-up |
| 1930 | Uruguay | Argentina |
| 1934 | Italy | Czechoslovakia |
| 1938 | Italy | Hungary |
| 1950 | Uruguay | Brazil |
| 1954 | West Germany | Hungary |
| 1958 | Brazil | Sweden |
| 1962 | Brazil | Czechoslovakia |
| 1966 | England | West Germany |
| 1970 | Brazil | Italy |
| 1974 | West Germany | The Netherlands |
| 1978 | Argentina | The Netherlands |
| 1982 | Italy | West Germany |
| 1986 | Argentina | West Germany |
| 1990 | West Germany | Argentina |
| 1994 | Brazil | Italy |
| 1998 | France | Brazil |
| 2002 | Brazil | Germany |
| 2006 | Italy | France |
| 2010 | Spain | The Netherlands |
| 2014 | Germany | Argentina |
| 2018 | France | Croatia |
| 2022 | TBA | TBA |
Conclusion
From the above-concluded facts, it can be seen that Brazil, Germany, Italy, and Argentina have all achieved great success in international football tournaments throughout the years. Each nation has won multiple World Cup titles, showcasing their skillful play and tactical brilliance. This kind of persistence and determination will continue to make these four nations stand out amongst the rest in terms of footballing excellence. Their unparalleled passion and enthusiasm will likely bring them even more success as the years go by. It is only a matter of time before another one of these incredible nations takes the world stage in footballing dominance. The future looks bright for these four international powerhouses!
FAQs
How often has Brazil won the World Cup?
Brazil has won the World Cup five times, in 1958, 1962, 1970, 1994, and 2002.
What year did Italy win its first World Cup title?
Italy's first World Cup title was in 1934 when they beat Czechoslovakia in the final.
What year did Argentina win the World Cup?
Argentina won the World Cup in 1978 and 1986.
Who scored the winning goal for Argentina in the 1986 World Cup Final?
Jorge Burruchaga scored the winning goal for Argentina in the 1986 World Cup Final.
Who was Italy's leading goal scorer in their 2006 World Cup win?
Fabio Grosso was Italy's leading goal scorer in their 2006 World Cup win, scoring two penalty kicks in the final match against France.
Who was the first ever world cup winner?
The first ever world cup winner was Uruguay
Who is the only player who has won the world cup more than once?
The only player who has won the world cup more than once is Brazil's Pele, who won the tournament in 1958, 1962 & 1970