UGC NET Result 2022 (Link)- UGC NET 2021-2022 स्कोर कार्ड, कट ऑफ मार्क्स और मेरिट लिस्ट पीडीएफ जल्द ही इसकी आधिकारिक वेबसाइट पर उपलब्ध होगी । राष्ट्रीय परीक्षण एजेंसी (NTA) ने नवंबर और दिसंबर 2021 महीने में UGC NET दिसंबर 2020 और जून 2021 संयुक्त परीक्षा आयोजित की। UGC NET 2021-2022 प्रथम चरण की परीक्षा 20 नवंबर 2021 से 5 दिसंबर 2021 तक, दूसरे चरण की परीक्षा 23 दिसंबर से 27 दिसंबर 2021 तक और तीसरे चरण की परीक्षा 4 जनवरी से 5 जनवरी 2022 तक आयोजित की गई थी।
UGC NET Result 2021-22 और Answer Key ugcnet.nta.nic.in वेबसाइट पर जारी की जाएगी। उम्मीदवारों को नवीनतम परिणाम समाचार और अपडेट के लिए नियमित रूप से यात्रा करने की आवश्यकता है ।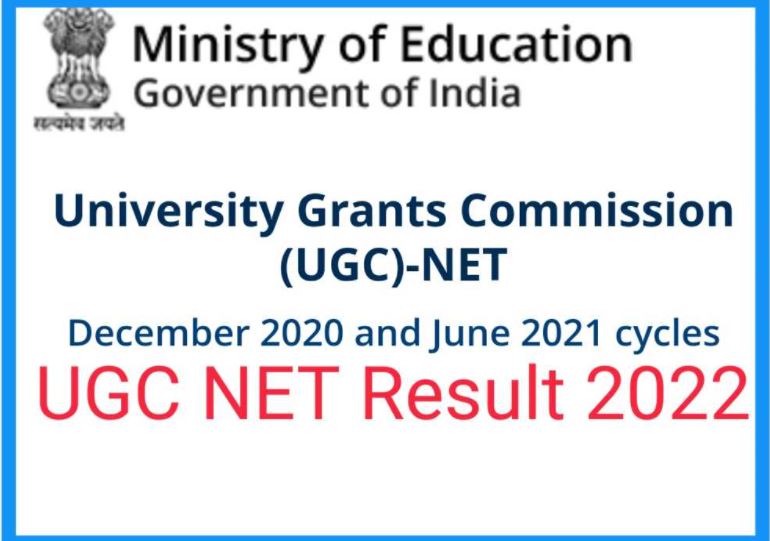 UGC NET Result 2022 expected date & Time –राष्ट्रीय परीक्षण एजेंसी जनवरी 2022 के अंतिम सप्ताह या फरवरी 2022 के पहले सप्ताह में UGC NET 2021 (दिसंबर चक्र) परीक्षा परिणाम घोषित करने के लिए तैयार है। NTA ने UGC NET दिसंबर २०२१ परिणाम तिथि और समय का खुलासा नहीं किया है ।
UGC NET Result 2022 Download Link
विश्वविद्यालय अनुदान आयोग राष्ट्रीय पात्रता परीक्षा (UGC NET) 2021-2022 का आयोजन देश भर में तीन चरणों में किया गया था । अभ्यर्थी UGC NET की आधिकारिक वेबसाइट से जेआरएफ अवार्ड लेटर/नेट ई-सर्टिफिकेट डाउनलोड कर सकते हैं। UGC NET Result 2022 फेज 2 और कट ऑफ मार्क्स को केवल ऑनलाइन मोड से ही चेक किया जा सकता है। NTA नया आयोग है जो नेट जून और दिसंबर २०२१ परीक्षा के आयोजन की सभी जिम्मेदारी लेता है ।
जैसा कि हमने उल्लेख किया है, UGC NET 2021-2022 परिणाम इसी सप्ताह घोषित किया जाएगा । NTA UGC NET प्रोविजनल Answer Key 2021-22 पीडीएफ फाइल में कभी भी जल्द ही जारी किया जाएगा ।
ugcnet.nta.nic.in 2022 Score Card
Post
NTA UGC NET Phase 2 Result 2021
Name of Exam
UGC NET 2021-2022
Session/Cycle
June 2021-Dec 2021
Name of Organization
National Testing Agency (NTA)
Exam Date
1st Phase – 20th November 2021 to 5th December 2021
2nd Phase – 23rd Dec to 27th Dec 2021
3rd Phase – 4th January to 5th January 2022
UGC NET Result 2021-22 Date
February 2022
Official website
ugcnet.nta.nic.in
UGC NET 2022 Cut off marks
UGC NET कट ऑफ लिस्ट 2022 श्रेणीवार और विषयवार अंक जल्द ही इस पृष्ठ पर जारी किए जाएंगे।
| | | |
| --- | --- | --- |
| Categories | Paper-I | Paper-II |
| General | 40% | 40% |
| OBC (Non-Creamy layer)/PWD/SC/ST | 35% | 35% |
NTA UGC NET 2022 Merit List
UGC NET Result 2022 दिसंबर साइकिल लॉगिन लिंक जनवरी 2022 के अंतिम सप्ताह में सक्रिय हो जाएगा। NTA UGC NET 2022 मेरिट लिस्ट पीडीएफ को रिजल्ट के साथ प्रकाशित किया जाएगा। वे अभ्यर्थी जो UGC NET दिसंबर के विभिन्न विषयों की परीक्षा में शामिल हुए हैं, वे पीडीएफ फॉर्मेट में मेरिट लिस्ट डाउनलोड कर सकते हैं ।
How to Download UGC NET Result 2022 Online?
visit the official website of NTA UGC NET 2021-22 i.e. ugcnet.nta.nic.in
Find the UGC NET 2021 login Link (Candidates login)
Enter required details like Registration no. And password.
verify the details.
Submit it.
Download the UGC NET 2021-2022 score Card.
Check UGC NET 2022 Cut off Marks (Subject wise).
Take print out.
Direct links to Download UGC NET 2022 Result & Merit List
UGC NET 2022 Merit List Pdf Link – Updated soon.