Let me tell you about Neet topper list 2022. Along with the NEET results, the National Testing Agency (NTA) issues the Neet topper list 2022. The NEET 2022 exam was held on July 17, 2022. However, The results and answer keys will be released soon by the authorities. The competent authorities will issue the NEET 2022 toppers list once the results are declared. If you want to know about the NEET Result 2022, click here.
Moreover, the exam authorities will publish the NEET Toppers 2022. Mrinal Kutteri, Tanmay Gupta, and Karthika G Nair secured AIR 1 with 720 points in the NEET 2021. Candidates can view their scorecards on the official website once the NEET 2022 results are released. Last year, all three Rank 1 holders received 99.999806 percentile. NEET 2021 attracted around 16,14,777 candidates. In government and private colleges, 95,000 MBBS and BDS programs are available. Continue reading more about the NEET topper 2022, NEET topper 2022, and Akanksha Singh NEET topper.
Neet Topper List 2022
After the NTA releases the list of NEET 2022 Toppers; it will be updated below. The lists of NEET UG top scorers for 2022 will be presented by gender, state, category, and AIR.
| | | |
| --- | --- | --- |
| Neet Topper 2022 | Name | Air |
| List of All India NEET 2022 Toppers | TANISHKA | 1 |
| List of Female NEET 2022 Toppers | TANISHKA | 1 |
| List of Male NEET 2022 Toppers | VATSA ASHISH BATRA | 2 |
List of All India NEET 2022 Toppers

List of Male NEET 2022 Toppers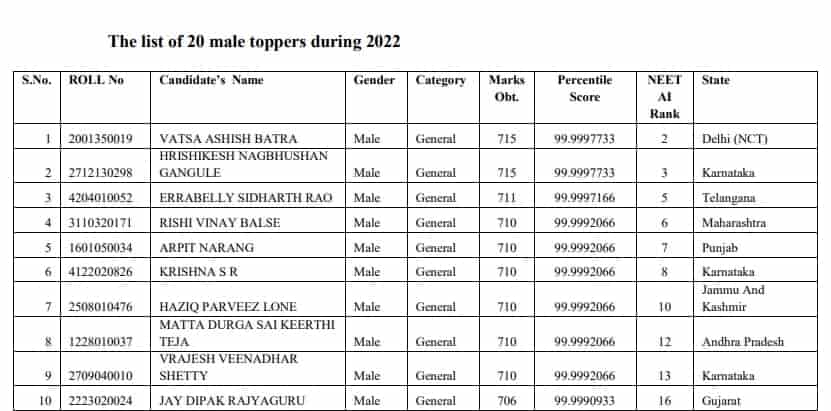 List of Female NEET 2022 Toppers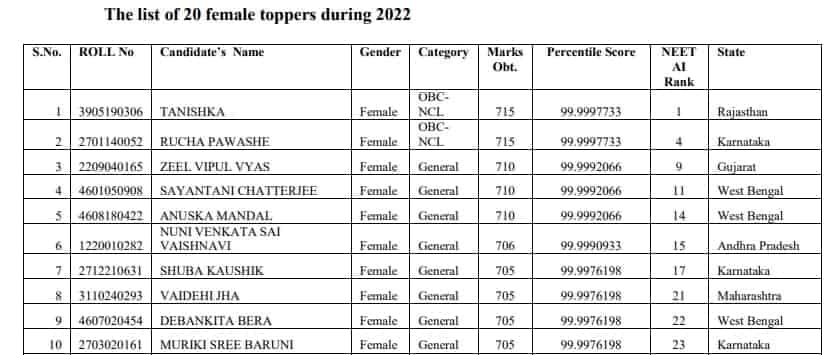 List of State-wise NEET 2022 Toppers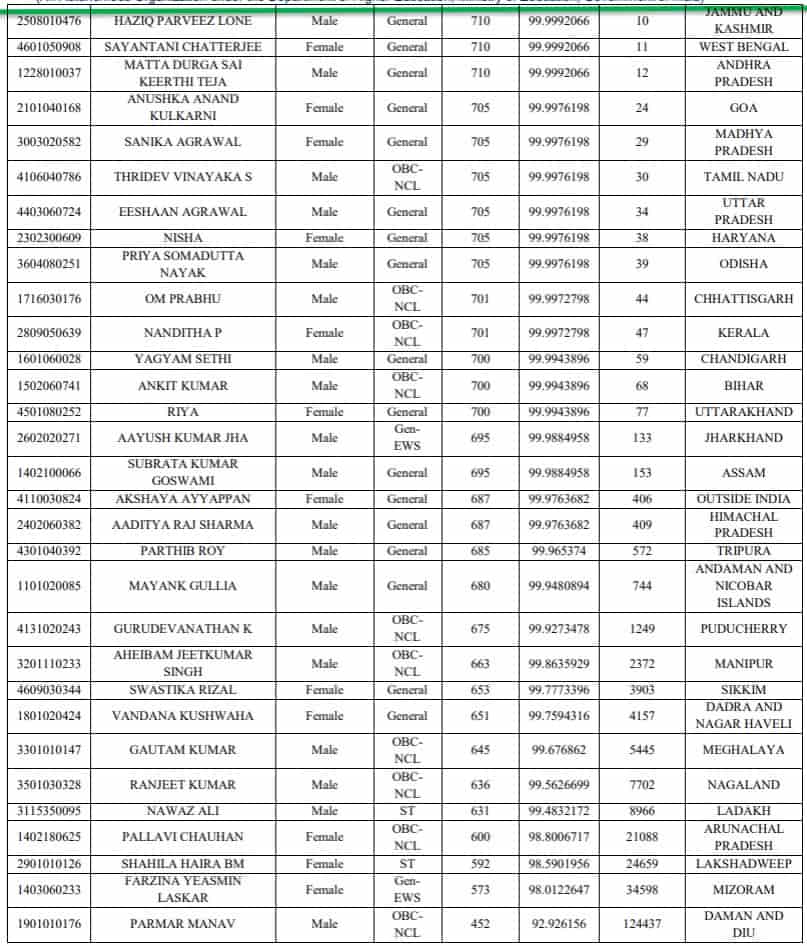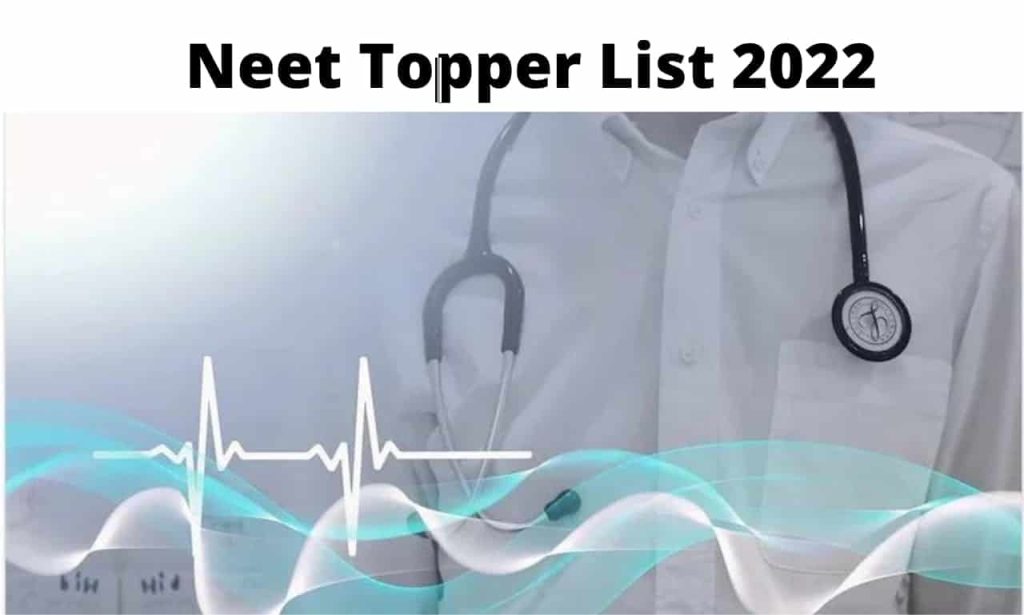 NEET Toppers 2022: Check Previous Year Toppers
Candidates can check the previous year's topper list until the NEET topper 2022 list is published. Mrinal Kutteri from Hyderabad, the NEET UG 2021 topper, had also excelled in the JEE before taking the NEET exams in 2021. Tanmay Gupta became the first person from Jammu and Kashmir to pass the NTA NEET 2021. Karthika G. Nair aced the exam after studying for almost two years and taking practice examinations.
| | |
| --- | --- |
| Roll No | Candidate |
| 4201113147 | Mrinal Kutteri |
| 2001012341 | Tanmay Gupta |
| 3114010091 | Karthika G Nair |
| 3905004441 | Aman Kumar Tripathi |
| 2707002547 | Jashan Chhabra |
NEET 2019 Toppers List
According to the statistical information offered by the NTA, 15,19,375 people registered for NEET in total in 2019. 14,10755 out of the total registered candidates showed up for the exam, and 7,97,042 passed.
15,19,375 applicants have registered for NEET.
14,10,755 candidates showed up for the election.
7,97,042 applicants passed the examination.
| | | | |
| --- | --- | --- | --- |
| Name | Gender | Marks Obtained | Percentage |
| Nalin Khandelwal | Male | 701 | 99.9999291 |
| Bhavik Bansal | Male | 700 | 99.9997873 |
| Akshat Kaushik | Male | 700 | 99.9997873 |
| Swastik Bhatia | Male | 696 | 99.9997165 |
| Anant Jain | Male | 695 | 99.9993620 |
How Topper's study for the NEET exam?
The best advice from NEET Toppers is provided for passing India's most difficult medical entrance exam. Read on for Aniruddha Das' preparatory advice, which is provided below, as the NEET 2021 winner:
Aniruddha Das, who placed first in NEET 2021 with a score of 681 and a 794 AIR rank, aced the test on his first try. He revealed the following paper-attempting tips and preparation strategies in an interview with News18:
His NEET preparation had begun in class eleven.
A few months prior to the exam, Aniruddha used to study 14–16 hours every day in accordance with his schedule. But back in the early days of training, he would study for upwards of 10 hours a day with several breaks.
He feels that his consistent preparation strategy was what allowed him to succeed on the test.
NEET 2021 Topper Aniruddha Subject Wise Preparation Plan:
He had read DC Pandey's Objective Physics for NEET as preparation for the physics exam.
He had used Your Fingertips' MTG NCERT to prepare for chemistry.
On a daily basis, he used to solve questions from past years' exams and concentrate on syllabus review.
NEET 2021 Topper Aniruddha Exam Attempting Strategy
Aniruddha, who placed first in the NEET 2021 exam, initially answered the biology questions before moving on to the chemistry and physics sections because biology has the most questions and is a scoring area.
Another justification for starting with biology questions is that physics and chemistry often require lengthy calculations.
His perfect score on the biology test contributed to his overall grade.
NEET Rank List 2022
A pdf version of the rank list will be available. This indicates that no information will be required from the applicants to download the merit list. The authority will compile the NEET UG Merit List according to the exam results. This indicates that admittance will solely be based on merit.
The authority holds the exam to grant admission to various undergraduate medical programs. However, the application procedure is now being held for 2022–2023. The official will announce the merit list for seats under the 15% All India Quota. So, to learn more about the NEET UG Rank List 2022, study the following article until you're satisfied.
Tie Breaking Process of NEET 2022 Rank List
If two or more candidates receive the same score, the tie would be broken as follows:
Candidates with higher biology test scores will be given preference.
applicants who will perform better on the Chemistry portion of the test.
candidates who will perform better on the exam in the Physics subject.
Candidates will be given preference if they provide fewer incorrect responses.
candidates with fewer incorrect answers in their attempts in the biology course.
Participants who have less frequently attempted wrong responses in the Chemistry subject.
candidates with fewer incorrect answers in their attempts in the physics subject.
A higher rank will be given to applicants who are older.
Finally, preference will be given to individuals who submitted their applications first.
NEET Merit List 2022 Download State-wise Topper List
All India Quota National Eligibility Cum Entrance Test Merit List Rank List 2022 NTA compiles the All India Quota List to offer admission to candidates for the 15% available spots in the country's Government Medical and Dental Colleges. The UG National Eligibility Cum Entrance Test State-specific ranking list The authorities assigned to each state create the State-specific ranking list. On ntaneet.nic.Candidates who took this test can view the merit list and the OMR sheet for 2022.
Scorecard for the National Eligibility Combined Admissions Exam 2022 and Marks List
Entrance Test Merit List Rank List 2022 for National Eligibility CUME for All India Quota The National Testing Agency (NTA) is in charge of compiling the All India Quota List, which is then used to select candidates for admission into the 15% available slots in all of the nation's government-run medical and dental schools.
Entrance Exam for National Eligibility, also Known as UG State Wise Rank List The numerous authorities appointed for each state are responsible for compiling the State Wise Rank List. Candidates who took part in this examination checked their results online at ntaneet.nic. Can view the merit list and the OMR sheet for 2022.
How to Download NEET Topper Merit list 2022 PDF?
Students should go to the NTA official website at ntaneet.nic.in or mcc.nic.in for their first visit.
To see the NEET Exam Rank List Topper 2021-22, click on the link.
In the spaces provided, please indicate your examination roll number, date of birth, and any other requested information.
Make sure you hit the "submit" button.
Get a printout of the state-by-state ranking list and the topper list. You should save a copy of the hard copy somewhere safe for use in the future.
Final Verdict:
After reading this post, we hope to learn about the Neet topper List 2022 and the previous year's toppers. If you guys have any questions, please let us know in the comment box if you have any questions.
NEET UG Topper List 2022 PDF Direct Link @neet.nta.nic.in
Frequently Asked Questions About Neet topper list 2022 @neet.nta.nic.in
Q. What will the ranking be for applicants in NEET 2022 who had the same score?
Ans: Candidates earning the same number of points in NEET 2022 will receive a different rank according to the tie-breaking criterion. NTA again added the age factor to the tie-breaking criteria this year.
Q. Can candidates from special categories benefit from higher NEET scores?
Ans: No benefits will be offered to candidates while the scores are being calculated. However, candidates from the reserved categories are still eligible for benefits within the NEET qualifying cut-off range.
Q. Which courses will accept my NEET results?