MP Board 12th Result 2023 – In May, the Madhya Pradesh Board of Secondary Education will announce the MP 12th Result 2023. Every year, the MPBSE Board gives tests to students in grades 10 and 12. This Year From March 2 to April 5, 2023, the authority did the same with tests for Science, Arts, Commerce, and Vocational courses. Many people from all over Madhya Pradesh have signed up for the Board's affiliated schools' final exams for the academic year 2022–2023.
In India, the XII exam is one of the things that students need to do well on to get into college. So, the senior secondary examination is an essential requirement for getting into degree programmes. All students who took it worked hard to do better on the class 12 and 10 exams. Candidates who took the Plus Two exam can check their MP Board 12th Result 2023 by going to the official website at mpresults.nic.in and entering their roll number. If you want to know about Maharashtra HSC Result 2023, click here.
MP 12th Board Result 2023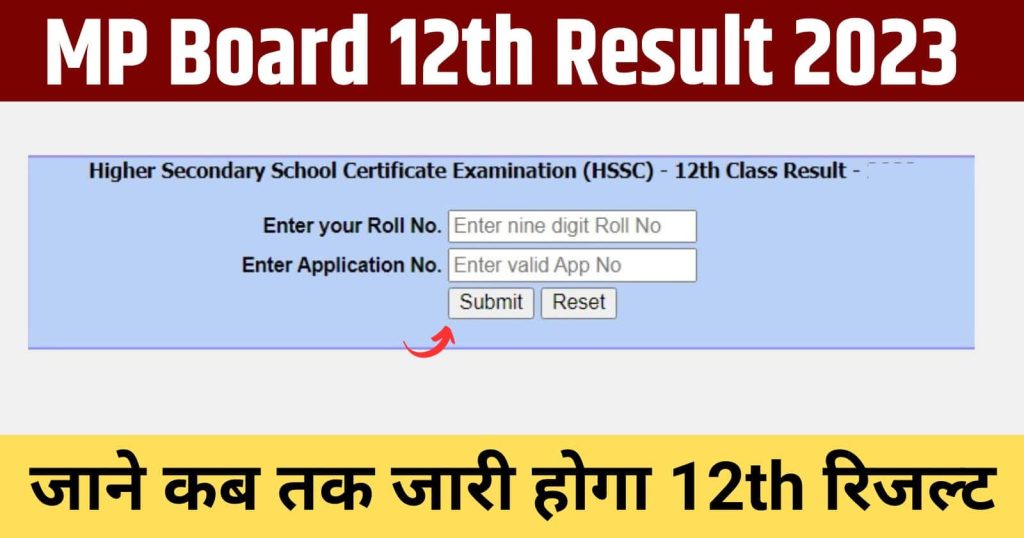 The MPBSE Board was able to run the Higher Secondary Certificate Examination according to the schedule that had been set. Every year, thousands of people attend every district's 11th and 12th-grade exams. For the MP Board 12th Result 2023, nearly 6 lakh students showed up. The board sets up the curriculum, makes study plans, ensures they are followed and is in charge of other things like the internal, practical, and final exams.
It also runs and is in charge of the state's secondary and higher secondary education systems. The number of students who have signed up to take the Board exam is going up, so the authority thinks that more students will pass and more students will be more successful than last year. MP Board 10th & 12th Result 2023 will be Declared on 25th May 2023 at 12:30 PM
MP Board 12th Result 2023 Date – MPBSE 12th Class Result Highlights
| | |
| --- | --- |
| Name of Exam | MPBSE HSSC Examination 2023 |
| Name of result | MPBSE HSSC Result 2023 |
| Name of Organization | Madhya Pradesh Board of Secondary Education |
| Exam Date | March 2nd, 2023 – April 5th, 2023 |
| HSC result credentials | Roll number & Application Number |
| एमपी बोर्ड 12वीं का रिजल्ट 2023 | 25th May 2023 at 12:30 PM |
| Result status | To be announced |
| Official website | mpresults.nic.in |
MP Board 12th Result 2023 Kab Tak Aayega – Released Date
MP Board 12th Result 2023 Kab Tak Aayega is a Hot topic, students are searching for the Result date but we inform you that the board has not announced any official date for the result till now. according to the media report, the board will expected to be declared the MPBSE Class 12th Result 2023 in May 2023.
mpresults.nic.in 2023 12th
The 12th exam has to be taken at the end of the higher-level study term. After getting this certificate, it can be used to sign up for college courses and train programmers. Students have studied for it so they can do better on it and choose the classes they want to take at a higher level of school. Students can check their eagerly awaited MP Board Class 12th Result 2023 with marks by name, school, roll number, and subject for regular, private, and compartment candidates.
MP Board 12th Result 2023 Arts, Commerce & Science
The MP Board, or Madhya Pradesh Board of Secondary Education, is a state-level education board in the Indian state of Madhya Pradesh. It was established in 1965 and is responsible for overseeing and regulating the secondary education system in the state. The board is responsible for conducting the final exams for Class 10th and Class 12th students and awarding certificates based on their performance.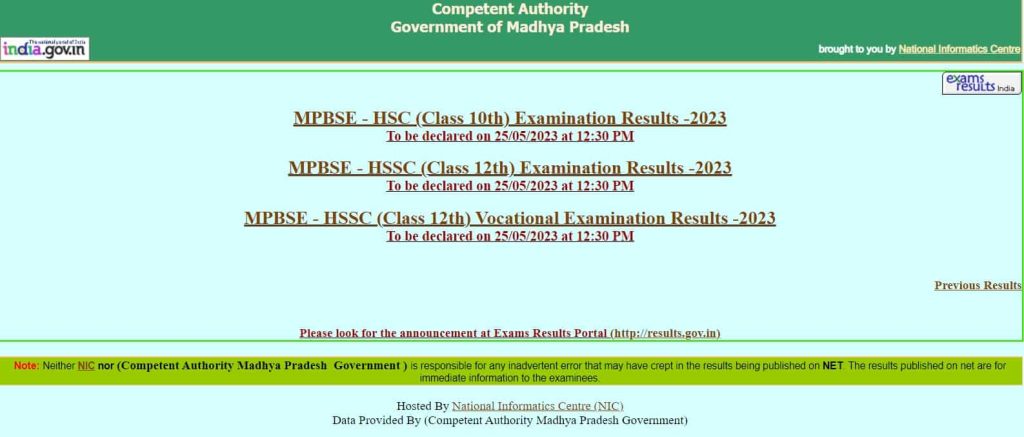 However, the MP Board also sets the curriculum and syllabus for secondary education in the state, develops educational materials and resources, and provides teacher training and support. The MP Board is committed to providing quality education and promoting student achievement and success.
MPBSE MP 12th Class Result 2023
Since 1965, when it was first set up, the MP Board of class 12th Result of Secondary Education, or MPBSE, has given HSC, HSSC, and other exams.
The board is in charge of all academic matters, including the curriculum development for all secondary and upper secondary classes. To improve the evaluation system and the results, the board has set up divisional offices in charge of making study plans for these kinds of tests and recommending that Higher Secondary be recognised. High Schools and Private Schools to the State Government. The Council also does any other tasks that the State Government gives it from time to time.
How to check your MP Board 12th Result 2023
Visit www.mpbse.nic.in or https://www.mpresults.nic.in/ to find out the official MPBSE 12th Results 2023.
Keep your MP HSSC Admit Card 2023 close by. Enter your Roll Number as it appears on your Admit Card and click the GET RESULT button.
Your MPBSE 12th Result 2023 will be shown, along with details about how you did in each subject and your final score.
Keep a copy of your result because MPBSE will send you your Original Mark sheets later. This printout can be used to get into colleges in India for Undergraduate courses.
MP Board 12th Result 2023 through SMS
Enter: MPBSE12ROLLNUMBER
The number is 56263.
After a while, the mpbse.nic.in the 12th result, 2023, is sent as an SMS.
Mpbse.nic.in 12th Result 2023 Name Wise
The Madhya Pradesh Board HSSC Result hasn't been released yet. Based on the MPBSE 12th board result, students can get into colleges to take courses for higher education. So right now, all students are under a lot of stress. Every year, Madhya Pradesh Board of Secondary Education students do better, so everyone agrees that the 12th Result MP Board 2023 will be better than the results from the previous years.
Read Also –
MPBSE 12th Class Result 2023 Download Link
mpresults.nic.in
mpbse.nic.in
mpbse.mponline.gov.in
jagranjosh.com
indiaresults.com
Details Mentioned In MP Board 12th Result 2023 Marksheet
In 2023, the name-based online mark sheet for the 12th-grade result is on mpbsc.nic.in will include the following information:
Registration number
Roll number
School number
Student's Name
His/her photograph
Centre number
Total marks
MP Board 12th Result Previous Year Date & Time
| Year | Date | Time |
| --- | --- | --- |
| 2023 | 25 May | 12:30 PM |
| 2022 | 29 April | 1:00 PM |
| 2021 | 29 July | 12:00 PM |
| 2020 | 27 July | 03:00 PM |
| 2019 | 15 May | 11:00 AM |
| 2018 | 14 May | 10:30 AM |
| 2017 | 12 May | 10:30 AM |
MPBSE Result 2023 12th Class Previous Year Pass Percentage
| Year | Overall Pass Percentage |
| --- | --- |
| 2023 | 55.28% |
| 2022 | 72.72% |
| 2021 | 100% |
| 2020 | 68.81% |
| 2019 | 72.37% |
| 2018 | 68% |
| 2017 | 70.11% |
Functions Of The MP Board
Check out students in high school and upper secondary classes
Collecting information from the school that will help the student do well on different tests.
Putting in place testing centres.
Printing question sheets and giving them to exam centres
Providing testing sites with stationery
The printed "notional Roll of Examining Candidates" and "Hall Tickets" for private candidates will be given out.
Appoint people to run the test at different locations based on what the inspecting officers say should be done.
Make and give out test results.
Give out licences and DEDs
Offer tests that are the same as the ones other boards give.
MP Board 12th Result 2023 Analysis
The MP Board 12th Result releases the results of the 11th and 12th-grade exams every year in May. The group makes decisions about the administrative, cognitive, and intellectual direction of the state's whole educational system.
However, the board is in charge of many different parts of education and has many different jobs. They do everything they can to give the best maintenance education. The board is also responsible for making, gathering, improving, publishing, printing, and giving out textbooks for grades 10, 11, and 12.
Every year, the Board gives the test and certificates to students who pass it. The curriculum says that the board is in charge of giving the annual exam and internal and practical tests.
In 2016, 7,70,884 students took the test. Of those students, 68.07 were boys, and 69.33 were girls. The total number of people who took part was 60.30. When we talked about the same thing in 2017, 5,43,348 students took the test. Of those, 64.16 were boys, and 72.38 were girls, for 67.87 per cent. The number of results is going up every day.
Download MP Board Class 12th Admit Card 2023
A month before the start of the HSSC Exams 2023, MPBSE sends out the Admit Cards. However, the MPBSE HSSC Admit Cards 2023 will be sent out in the first week of February 2023.
Students can get their MPBSE 12th Admit Card 2023 by going to the Official MPBSE Website at https://mpbse.mponline.gov.in/. When getting your Admit Card, keep the following in mind, In page setup, get rid of the header, footer, and extra margins; Print as "Portrait" on A4-sized paper.
Only use the "PRINT" button to print. For the best results, use Internet Explorer or Google Chrome to print. Here, you can find everything you need to know about the Admit Cards for the MP Board Class 12 Examinations 2023.
MPBSE has also posted the cut-down list of topics for Class 12 exams on its website. The MP Board 12th Class Syllabus 2023 tells students what chapters and topics they need to study for each subject. Moreover, the MPBSE Class 12 Syllabus 2023 is released early so that students can start studying and use the MP Board 12th Model Papers 2023 to test their skills. This will give them enough time to study and get ready.
Final Verdict:
In this article, we have told you about MP Board 12th Result 2023. If you have any questions contact us. Thank you!
mpresults.nic.in 2023 Class 12 Result Marksheet Download Direct Link @mpbse.nic.in
Frequently Asked Questions About MP Board 12th Result 2023
When are the MP Board HSSC Exams for 2023?
The MP Board Class 12 Exams 2023 started on March 2, 2023, and end on April 5, 2023.
If I fail one subject, can I take the MP HSSC Supplementary Exams in 2023?
If a student failed one subject, they can ask for a reevaluation or take the MPBSE Supplementary Exams 2023. You can find out more at www.mpbse.nic.in.
Where can I find out what my Madhya Pradesh Board 12th Result 2023?
Enter your HSSC Roll Number as it appears on your Admit Card on one of the following websites to get your result:
– http://www.mpbse.nic.in/
– https://www.mpresults.nic.in/