Maharashtra HSC Result 2023 – The HSC (12th Class) exam was successfully administered by the Maharashtra Board of Secondary and Higher Secondary Education (MSBSHSE) during February and March 2023. The results of this exam will be published in the Maharashtra 12th Board Result 2023.
Many students who are now enrolled in the 12th class in MAH and have taken a written exam are looking forward to receiving their Maharashtra HSC Results. In a short time, MSBSHSE will publish the MAH HSC Results 2023. Candidates can get the MAH 12th Board results through the official web portal, a link to which can be found further down on this page.
Maharashtra HSC Result 2023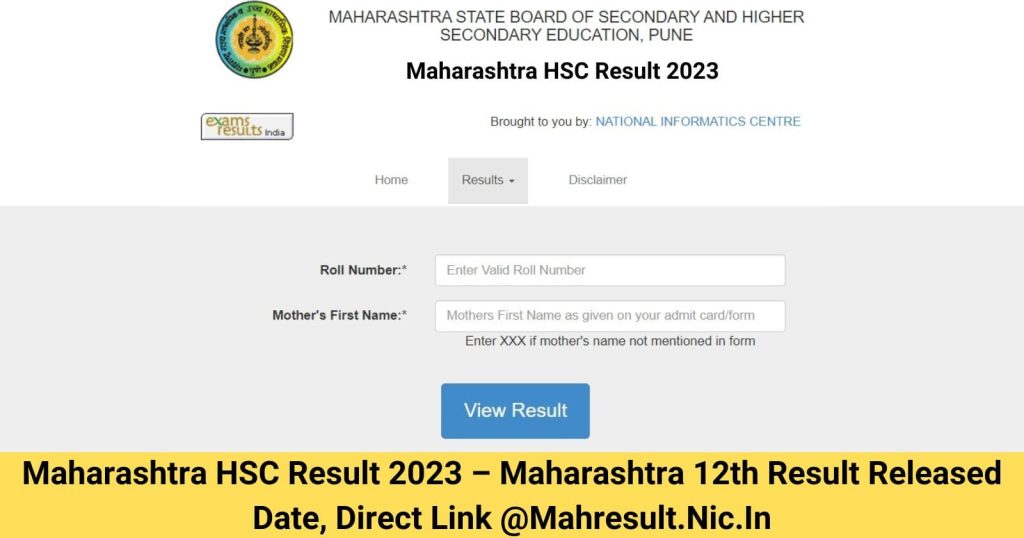 In May, MAHA will release the Maharashtra Board HSC examination results. Applicants who took part in the MAH 12th exam can access the 12th board results by clicking on the official website link provided below, which is located further down on this page.
Students who successfully pass the 12th board examinations and achieve excellent scores on those exams are qualified to continue their education at the graduation level. Applicants who have reason to believe that the results include an error may submit a request for the results to be re-evaluated. Preparation is available for the additional examination for any applicants who received supplemental status in any topic. Maharashtra Board HSC (12th) Result 2023 will be Declared Tomorrow (25th May 2023) at 2 PM
Maharashtra HSC Result 2023 -MSBSHSE 12th Highlights
| | |
| --- | --- |
| Name of Exam | Maharashtra Higher Secondary School Certificate Examination |
| Name of result | Maharashtra 12th HSC Result 2023 |
| Name of Organization | (MSBSHSE) |
| Exam Date | February 21st, 2023 – March 20th, 2023 |
| HSC result credentials | Roll number & Mother's first name |
| Maharashtra board result date 2023 | 25th May 2023 at 2 PM |
| Number of students | Around 14 lakh |
| Result status | To be announced |
| Official website | mahresult.nic.in |
MAHA Board HSC Result 2023
The Maharashtra Secondary Boards Act of 1965 is the legislation that ultimately led to the establishment of the Maharashtra State Board of Secondary and Higher Secondary Education. On January 1, 1966, the MAH board in Pune was founded so that it could supervise secondary education throughout the state of Maharashtra.
In 1976, the Board adopted its current moniker, The Maharashtra State Board of Secondary and Higher Secondary Education. Previously, it had been known as the Maharashtra Secondary and Higher Secondary Education Board. Exams for grades 10 and 12 were held annually in March and April by MAH. This year, MAH also administered the HSC examination in March and April, and students who participated in the 12th board exam can verify their performance results on the official website.
Maharashtra Board HSC Result 2023 Date and Time
MSBSHSE Board 12th Result 2023 Release Date & time – is a Hot topic, students are searching for the Result date but we inform you that the board has not announced any official date for the result till now. according to the media report, the board will expected to be declared the Class 12th HSC result 2023 in the month of June 2023.
To get Latest updates & news about Sarkari Result 12th Maharashtra Board you should bookmark our website. we will update you through this page when we got any update about results so visit regularly to this page.
Maharashtra HSC Result 2023 Official Website Link
On the website for the HSC result 2023 Maharashtra Board, the results of the 12th class in Maharashtra will be announced in an online format. The following is a list of websites that will provide the 12th Result 2023 Maharashtra Board:
mahahsscboard.in
mahresult.nic.in 2023 HSC result
results.gov.in
results.nic.in
hscresult.mkcl.org
mahahsc.in
mahahsscboard.in
mahresult.nic.in HSC Result 2023
The examination for the 12th class of MSBSHSE has just finished. The Maharashtra State Board of Secondary and Higher Secondary Education will soon post the HSC Board Result for Arts, Commerce & Science on the official websites mahresult.nic.in, www.mahahsscboard.in, and mahahsscboard.maharashtra.gov.in.
maharashtra state board will release 12th hsc marksheet maharashtra board science on maharashtra hsc result 2023 official website. Students can check their result through maharashtra state board result official website.
So, all candidates are told to go to the official website and use their roll number and mother's name to check their Maharashtra HSC Result 2023. Maharashtra State Board, also known as MSBSHSE, has announced a possible date for the 10th and 12th-grade exams in 2023. In June 2023, HSC and SSC board results will be publicized.
hscresult.mkcl.org 2023 Marksheet Download
The Maharashtra State Board of Secondary and Higher Secondary Education (MSBSHSE) is yet to announce the much-awaited Maharashtra HSC Result 2023. Once the official announcement is made by the MSBSHSE board, we will update this article with the latest information.
The HSC examination was held offline at various examination centers across Maharashtra. This state-level examination is conducted by the MSBSHSE board every year, which exclusively conducts such exams in the state. The board ensures a fair and transparent examination process for all students.
Read Also –
How to Check Maharashtra HSC Result 2023 Online @mahresult.nic.in
On the official website mahresult.nic.in 2023 HSC result, students may check the status of their Maharashtra 12th result 2023 online. Check out the following for a step-by-step guide to viewing your scores in the Maharashtra 12th State Board Result 2023:
Visit the official website for the 2023 HSC results, which may be found at mahresult.nic.in.
Simply follow the link to access your Maharashtra HSC result for March 2023.
On the screen that you're looking at now should be the login page for the HSC result 2023 for the Maharashtra board.
Now, in the next area, you'll need to input a student's roll number and their mother's name.
After you have clicked the "View Result" button, the online mahresult.nic.in 2023 HSC results will be displayed on the screen. You can take a printout of the result or a screenshot.
Keep the mark sheet for the Maharashtra HSC result in 2023 in a secure place for future reference.
Maharashtra HSC Result 2023 Name Wise
The Maharashtra Board HSC Result hasn't been released yet. Based on the MAH 12th board result, students can get into colleges to take courses for higher education. So right now, all students are under a lot of stress. Every year, Maharashtra Education Board students do better, so everyone agrees that the Maharashtra HSC Result 2023 will be better than the results from the previous years.
Check Maharashtra HSC Result 2023 through SMS
To check the Maharashtra Board 12th Result 2023, the students of Class 12 who are awaiting the results for their year-end exams should send a specific SMS from their mobile phones. Students can get more details below.
You can send a text in this format: MHHSCspace>SEAT NO. If you want to know how to check Maharashtra HSC Result 2022, this step is essential.
Send it to 57766, that's right.
The same number will be used to send the MaharashtraHSC result.
How To Check Maharashtra HSC Result 2023 By DigiLocker @digilocker.gov.in
Digital mark sheets are provided by the Mahrashtra Board through Digilocker mobile applications.
The students can access their board results by logging in to the Digilocker applications.
If you need to download Maharashtra board 12th Marksheet 2023, you have to select Class XII Marksheet Button and then select board name which Maharashtra State Board of Secondary & Higher Secondary Education in our case.
After that, Enter your Seat No, Total Marks Obtained, Exam Session and year.
Your HSC Board 12th Result 2022 will appear on the next page.
You should check your marks in each subject to see if you pass or not.
Maharashtra Board 12th Result Previous Year Date & Time
| Year | Date | Time |
| --- | --- | --- |
| 2023 | May 25, 2023 | 2:00 PM |
| 2022 | June 8, 2022 | 1:00 PM |
| 2021 | August 3, 2021 | 4:00 PM |
| 2020 | July 16, 2020 | 1:00 PM |
| 2019 | May 28, 2019 | 1:00 PM |
| 2018 | May 30, 2018 | 1:00 PM |
| 2017 | May 30, 2017 | 1:00 PM |
MSBSHSE HSC 12th Result 2023 Pass Percentage
| | | | |
| --- | --- | --- | --- |
| Gender | Total Students | Passed Students | Pass % |
| Male | 7,92,780 | TBA | TBA |
| Female | 6,64,441 | TBA | TBA |
| Total | 14,57,293 | TBA | TBA |
Class 12 Maharashtra board Result Previous Year Pass Percentage
| Year | Pass Percentage |
| --- | --- |
| 2023 | 91.25% |
| 2022 | 94.22% |
| 2021 | 99.63% |
| 2020 | 90.66% |
| 2019 | 85.88% |
| 2018 | 88.41% |
| 2017 | 89.50% |
Details in the Maharashtra Class 12th HSC Result 2023 Marksheet
In the Maha HSC board result 2023, students can view personal details about other students and the grades they have earned. Students need to make sure that they thoroughly study the information of the Maharashtra HSC result 2023. If there is an error in the HSC result posted on hscresult.mkcl.org 2023, you should contact the relevant school authorities. The following information will be communicated to students through the Maharashtra HSC state board result 2023 for Commerce, Science, and the Arts:
Number and name of the seat
Date-of-birth
Father name
Mother name
Student identification number on the roll
subjects that were associated with the subject code
grading based on subjects
Total marks obtained
Maximum marks
The status of eligibility
MAH HSC Exams Syllabus 2023
The Maharashtra State Board of Secondary and Higher Secondary Education (MSBSHSE) has said that the Maharashtra Board Exams 2023 will cover the whole curriculum. According to board officials.. The Higher Secondary Examinations March 2023 of the Maharashtra State Board of Secondary and Higher Secondary Education (MSBSHSE) will be based on the entire syllabus, and students will need to take the HSC Exam at their assigned exam centers. Students taking the Maharashtra Board 12th Exams in 2023 should look at the syllabus to find out what topics and chapters they will be tested on.
Maharashtra HSC Supplementary Exams 2023
Students who failed the Maharashtra Board give one or more subjects make-up exams. Students in this situation can take additional tests to pass to be admitted to college.
Information about make-up exams will be posted on the Maharashtra Board's official website.
You can only sign up for supplementary exams if you failed one or two subjects on your Maharashtra HSC.
The expected date for the HSC compartment exams is June 2023.
The results of the supplemental exams are likely to be released in July 2023.
If a student fails one or more supplementary exams, he or she will have to take the Maharashtra HSC exams in the next session. These students will not be allowed to continue their education.
What After Maharashtra HSC Result 2023
After class 12, students can enroll in an undergraduate or diploma program. Admissions for these programs will be open as soon as the HSC result in the Maharashtra board is released. After a few days, they will have to get their original mark sheets and certificates from the school authorities where they went to school. Students can apply to colleges and universities of their choice. However, students who didn't do well on the exam can take the compartment exams to save their school year.
Conclusion:
Here in this article, we have told you about Maharashtra HSC Result 2023. So if you have any questions, please let us know in the comment box. Thank you
mahresult.nic.in 2023 HSC Result Direct Link
Frequently Asked Questions (FAQs) on MSBSHSE Class 12 Result 2023
When will the MSBSHSE HSC (Class 12) Exams 2023 be conducted?
From February 20 to March 21, 2023, students will take the Maharashtra Board HSC Exams.
Does MSBSHSE fail a student in HSC Exams 2023?
The Maharashtra Education Department said that HSC students who don't pass two or more subjects would not fail the exam starting in 2020. Instead, they can retake the exam or join a program to improve their skills. On HSC Marksheets, the word "Fail" will not be used.
when maharashtra hsc result will be declared 2023?
12th Result 2023 Maharashtra Board is Expected to be Declared in the Last week of May or the First week of June 2023.